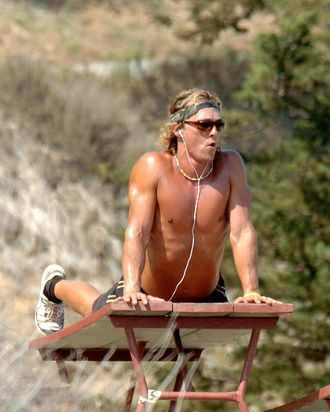 First: get fit.
Photo: Richard Beetham/Pete Whittle/Splash
Matthew McConaughey is many things: He's an actor of some repute, a man with a debilitating allergy to shirts, and a father of three children — Levi, Livingston, and Vida, all who were named after random words McConaughey read from bumper stickers on Durangos riding down this little highway we call life.
One thing many people don't know about McConaughey, though, is that he is a very skilled and proficient hunter: one who knows exactly the right tricks to capturing delicate animals, such as scared deer or women. In a video component for the latest issue of People magazine, McConaughey reveals how he was so able to lure his wife, Camila Alves, into his trap. Or was it a wild bear he was talking about?
INTERVIEWER: Do you remember the first time you met [the wild bear]?

Damn right. [At] Jones, a club. [in the middle of the woods]. I'm not a club guy, but I went with my buddy Lance [Armstrong] and some other friends. We'd had a great day at the beach; it was one of those summers where every day was just another green light. I was making margaritas at the table, and out of the corner of my eye this sort of [bear-like] figure went floating across the frame about 20 feet in front of me. My eye went up, and I remember what came out of my mouth. I didn't say, "Who is that?" I went, "What is that?" As I was trying to get "that's" attention across the room, I went in my head, "This is not the kind of [bear] you call over across the room, McConaughey. Get your ass out of the chair and go get [that bear]." Which I did. So I went over and I asked [the bear] and her [bear friends] to come sit down, which every man should know, invite the [bears] and that's the way they'll come on their own, which she did. She spoke Portuguese over the loud music, and I spoke and understood Portuguese better than I've ever understood her in our nine years [since I hunted and trapped her]. I also spoke the best Spanish I've ever spoken, which was close enough to Portuguese that night to be the international language of [hunting and trapping]. It worked out.
Amendments ours. Now you know how to trap a wild animal, thanks to Matthew McConaughey. You're not welcome!