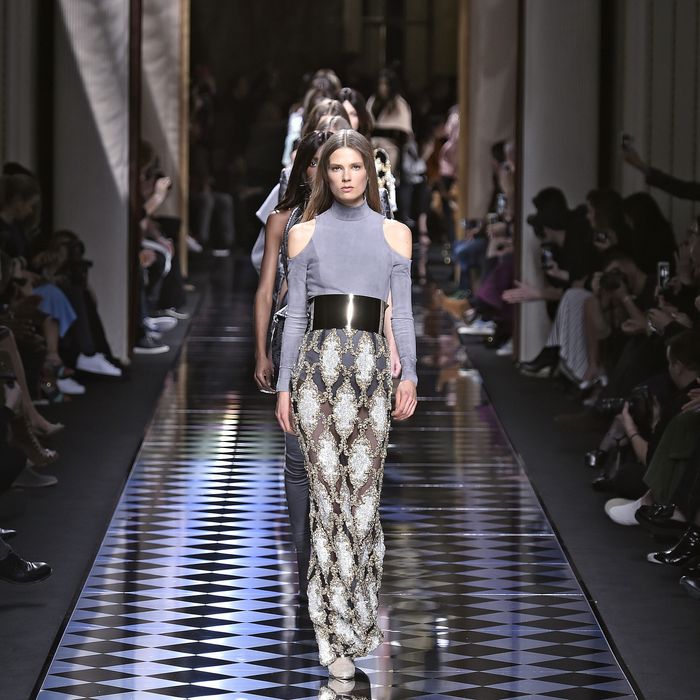 A look from the most recent Balmain show.
Photo: Catwalking/Getty Images
After reports surfaced in April that Valentino's parent company, Mayhoola for Investments, might buy Balmain, the acquisition has officially been announced today. According to a release from the company, the deal will close later this summer; while the sale price went undisclosed, Bloomberg's sources have estimated it at around $563 million. The plan is to expand Balmain by opening new stores internationally. The company, which is backed by members of the Qatari royal family, is also considering a Valentino IPO that could take place as early as next year.
Mayhoola has been strategic in its fashion acquisitions: Valentino and Balmain share historical name recognition and current-day appeal. After a shaky interregnum following its founder's retirement, Valentino has come to thrive under Maria Grazia Chiuri and Pierpaolo Piccioli, who've introduced  blockbusters like Rockstuds and rainbow-printed accessories while also paying attention to the house's history of craft, with events like last year's Roman couture blowout. And Balmain has managed to corral headlines and "likes," if not the same blowout sales, under Olivier Rousteing, whose glitzy '80s vision would probably be unrecognizable to house founder Pierre Balmain. He's also harnessed the power of the mass market via his sold-out H&M line.
By acquiring two of the biggest brands in fashion right now, is Mayhoola planning to become a luxury conglomerate along the the lines of LVMH or Kering? A line from Mayhoola's statement today certainly hints at that. "We believe Balmain will contribute significantly to our ambition to build a global luxury goods powerhouse," noted an unnamed rep about the deal.

It's not the only recent challenge to high-end fashion's hegemony. Earlier this month, Adam Pritzker and Vanessa Traina announced their intentions for their company, Assembled Brands, to become an American challenger to the European establishment. Traina told the New York Times that the two were interested in "sourcing the greatest new talent and providing the infrastructure for it to thrive." Of course, plenty have tried and failed before them, but maybe these new players will change the game.