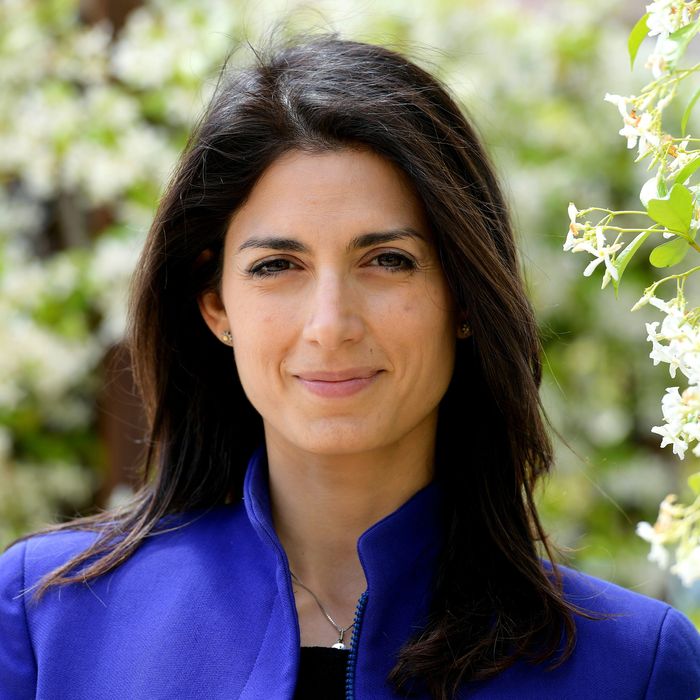 Virginia Raggi
Photo: VINCENZO PINTO/AFP/Getty Images
On Sunday, Virginia Raggi of the Five Star Movement defeated rival Roberto Giachetti of the Democratic Party to become Rome's first female mayor in the city's nearly 3,000-year history.
The 37-year-old, relatively inexperienced politician won 67 percent of the vote by running on an anticorruption platform in a city that's plagued with it — along with decrepit infrastructure and astronomical municipal debt. Here's what you should know about her.
What's her background?
Raggi, a lawyer, was born and raised in Rome. She initially became involved in politics in 2011, she told the New York Times, shortly after the birth of her son, Matteo. (Raggi is estranged from her husband, Andrea Severini, who posted a congratulatory letter lauding her for having the "courage of a lioness" on his blog following her victory.)
She told the Times she "couldn't sit back any longer and just watch," and became involved with the Five Star Movement (M5S) "in the spirit of mothers who want to change the world for their children." Raggi parlayed her grassroots activism into a city-council seat, and is not ashamed of her short time in the political arena. "Experience in Italy belongs to the parties who have ruined Rome and the country," she told The Guardian.
What does her political party stand for?
Movimento Cinque Stelle, or the Five Star Movement, is a populist, antiestablishment, and Euro-skeptic party co-founded in 2009 by popular Italian comedian Beppe Grillo. According to NBC News, the five stars of the movement are to "stop public water companies from falling into private hands, support sustainable development and environmentally friendly transport, ensure free internet access and promote environmentalism generally."
M5S secured several mayoral victories across Italy, including in Turin, where Chiara Appendino became that city's first female mayor.
Grillo has since stepped away from the spotlight of his party, which is likely for the best considering his incendiary comments over the years; most recently, he was criticized for making a suicide-bomber joke about London's first Muslim mayor, Sadiq Khan.
What particular issues make up Raggi's platform?
Raggi vowed to end corruption and introduce a new level of transparency to the Roman government. Her main aim is to revamp Rome's failing infrastructure, which she plans on doing by introducing new hybrid-electric buses, making people pay for bus rides (the current honor system isn't working too well), and ensuring that the trash is picked up on time and not overflowing into the streets. "Our vision is of a city that is livable, first of all, which it is not at the moment, for all the Romans who live here and the tourists who … find themselves in front of a city that is devastated and very difficult," Raggi said to The Guardian.
Socially, she supports equal rights for same-sex parents and believes that Rome has "legal obligations to house migrants."
Why is her victory as a woman significant?
It's worth noting that Raggi spoke openly about being a mother while campaigning, rather than downplaying her gender. After she won the runoff mayoral election, the AP reported that "Raggi said she drew on her experiences as a mother in Rome in deciding she had something to offer if she becomes the city's first female mayor. She cites rundown playgrounds and chaotic traffic, including chronic double-parking making it difficult to maneuver baby strollers."
As Karen Beckwith, the chair of the political science department at Case Western Reserve University told the Cut via email, "[T]hat women now govern two major cities is impressive, and that one of these is Rome — the largest Italian city and the seat of national government — is more impressive still. Women have been elected as mayors of Naples (Rosa Russo Iervolino, 2001-2011) and Milan (Letizia Moratti, 2006-2011). In short, women have been mayors of Italy's four largest cities."