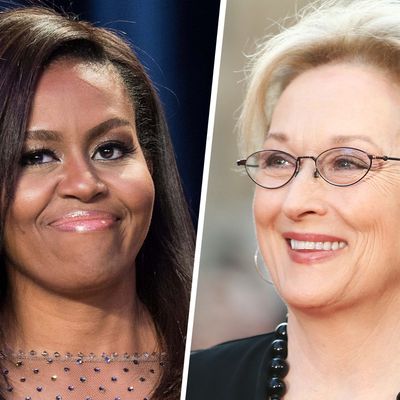 Michelle Obama and Meryl Streep
Photo: Getty Images
In what has the potential to be the greatest buddy comedy ever — sorry, Kevin Hart and the Rock — Michelle Obama are Meryl Streep are going to Morocco together.
In partnership with the Let Girls Learn initiative, the pair will travel to Marrakesh in June to discuss "the challenges women in the African country deal with on a regular basis." They will be joined by First Daughters Sasha and Malia, actress Freida Pinto, and the girls' grandmother, Marian Robinson. Mobama will also travel to Spain and Liberia to discuss the educational barriers that girls face around the world.
Of course, Meryl and Michelle go way back — they chatted about equal rights in More magazine in 2015, plus Barack is a self-proclaimed Streep fanboy — so we expect there will be some fun in addition to spreading the gospel of women's rights. Carpet shopping in the souks! Afternoon tea at the Mamounia! A camel trek! Can we please send Nancy Meyers along with a camera to make My Holiday With FLOTUS a reality?