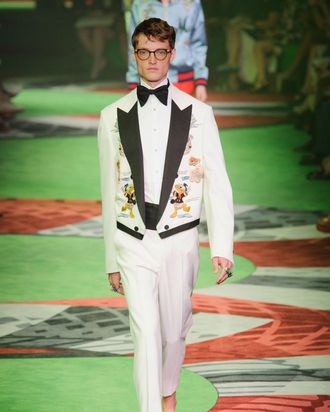 Photo: Daniele Oberrauch/Imaxtree
On Sunday in Milan, Gucci designer Alessandro Michele took us down the rabbit hole (had Alice been in the French Riviera) with cropped pastel trousers, toile suits with sea creatures, and Looney Tunes embroidery. The menswear week also saw martial-arts-inspired jackets and belts from Diesel Black Gold. On the more practical end of the runway, Prada and Moncler Gamme Bleu's models looked prepared to take on the great outdoors in weatherproof gear and Boy Scout khakis.
See all the galleries here, and keep checking back for updates from Paris.