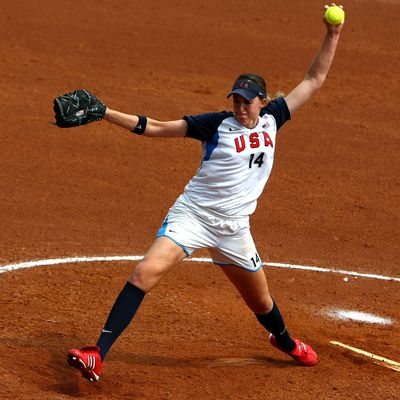 Monica Abbott.
Photo: Clive Rose/Getty Images
If you don't know Monica Abbott by name yet, you probably know her by legend alone. Earlier this year, Abbott, a six-foot-three pitcher for the National Pro Fastpitch softball league, became the first female athlete to sign a million-dollar contract from an American professional sports franchise. Her contract spans six years and is a combination of a flat yearly salary of $20,000 plus attendance bonuses. Of course, it's only possible because Abbott is good. Really good. The best, actually. In 2012, she set a new NPF record with a 77-mile-per-hour pitch. You wouldn't want to get in her way.
On Friday, the Cut got a chance to sit down with Abbott (thanks to her new partnership with Secret deodorant) and talk about what it's like to be at the top of her game, what her contract means for the future of female professional athletics, and her love of competition.
On why it's time to start paying attention to softball:
I've been playing in the National Pro Fastpitch League for almost ten years now. We're always trying as athletes in the league to promote the sport and get the word out. The Women's College World Series just finished, and it's been huge on ratings, and it continues to grow. But people forget that after college these athletes go somewhere to play. I think that softball is becoming really credible because there have been such phenomenal athletes shown consistently in our professional league and in the Women's College World Series. And more importantly, we're able to share some of the amazing plays and footage on social media. You can see diving catches and big strikeouts. Now it's creating that awareness.
Softball is a small-venue sport. We get anywhere from 1,000 to 1,500 people on average. We've had as many as 10,000 people and as little as 800. There are superfans and die-hard softball people, people that tweet me after every single game. Now it's really cool that some of the kids who saw me when I played in college, saw me the last couple years in the pro league; now they want to have a new picture of me for every year.

On why so many softball players have to give up the dream:
In the past it's definitely been hard keeping players in the league for financial reasons. They've played for two or three years and then they have to go get a real "big-girl job," as we used to joke. Now salaries are starting to come up. People are staying in the league longer because they want to play and they're realizing that you get better after college and there is a big following. So now that more people are playing, there's more brand recognition and fan recognition of certain players, and that's huge.
I feel like I was a little bit naïve because I came out of college and thought, Oh, I'm just going to play softball. I'm going to go to the Olympics, and I'm just going to play softball. I didn't realize, Oh, wait a second, I might have to do something else besides just play softball, because after college, you have to think about a career, about making a living for yourself. Never in my mind when I was growing up did I think that this was something that I'd have to think about. I just thought I'd be like Derek Jeter or Lisa Leslie or Randy Johnson and play professionally. But then reality hit.
On why softball is better than baseball:
No one said baseball's not exciting. I like to watch baseball, too. But if you want a quicker-paced game, if you don't want to wait four innings for action to happen, come watch softball. Our games last about two hours, and they're high-energy, high-paced, they're exciting. Give it a chance and you might just fall in love. Once you start watching, you might not be able to stop.
On the pressure of being a million-dollar woman:
I don't feel pressure. I love pressure. I just felt like, if I can be the first one, then who is going to be the second? Who is going to be the third? If I can be the first female athlete to do this, how is that going to inspire the next girl to just kick ass on their work project and demand a raise? How is that going to inspire other women? I really wanted to stand in my truth and say, "This is my contract, this is exactly what it is. What you see is what I see."

I've talked to a lot of millennial women who are dealing with these issues, and I've just told them, "Hey, this happened to me. I didn't think this was going to happen to me, but it happened, and now it's going to create so many opportunities for you. Don't forget to know your worth. Don't forget to value what you stand for."