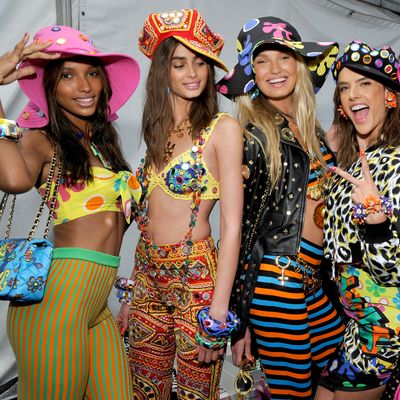 Ready for the resort.
Photo: John Sciulli/2016 Getty Images
On Friday night, Jeremy Scott unveiled Moschino's Summer 2017 menswear and Resort womenswear collections with a trippy show in downtown Los Angeles.
The '60s-themed event, which was all about flower power, peace signs, and psychedelic grooviness, kicked off the two-day MADE LA event in an enormous white tent perched atop the L.A. Live Event Deck. The entire show was also live streamed though Livit, a virtual reality platform, so fashion fanatics at Scott's Los Angeles and NYC stores could be equally immersed in the show. Scott himself autographed the cardboard VR headsets, which were emblazoned with the Moschino logo.
1. Before the doors to the tent opened, masses of Scott's super-fans mingled outside at "The Shops," an open-air marketplace filled with merch from local brands and emerging designers. Considering that the show was open to the public (tickets ranged from $55 to $400), it was only natural for the attendees' outfits to transform the Event Deck into a street-style photographer's paradise.
2. The centerpiece was a towering mass of vibrant, practically carnivorous inflatable flowers and giant balloons that looked like an exotic garden straight out of Alice in Wonderland and a Yayoi Kusama balloon installation. In other words, it was an Instagram magnet — and nobody was able to resist its pull.
3. The front row was packed with celebrities, including Katy Perry, Caitlyn Jenner, Cindy Crawford, Colton Haynes, Amber Rose, Big Sean, Miss USA Deshauna Barber, and Soko, just to name a few.
4. The Greats blessed the runway with their presence, starting with Miranda Kerr, who opened the show in a hypnotizing, red kaleidoscope-print outfit. Alessandra Ambrosio, Jourdan Dunn, and Chanel Iman also strutted down the runway wearing tailored suits, crop tops, and flared trousers that were bedazzled, crocheted, tie-dyed, or covered in hippie florals, mirrors, and peace signs with a Moschino twist. Devon Aoki closed the show in electric blue lace flared pants, an oversized pageboy cap, and a bustier top blooming with a robust variety of appliqué flowers.
5. Model Anna Cleveland brought her one-of-a-kind moves to the runway, undulating her arms to the beat and twirling to her heart's content in a dress printed with trompe l'oeil arms. She looked ready for a mind-blowing vacation.
6. The teen princes of the modeling world's royal families also walked down the runway. Anwar Hadid, son of Yolanda and younger brother of Gigi and Bella, graced the catwalk, and Presley Gerber, son of Cindy Crawford and Rande Gerber and brother of Kaia Jordan Gerber, made his modeling debut in an orange lace suit. Naturally, his family was in attendance.
7. The headwear was delightfully kooky: oversized newsboy caps covered in bold, zany prints; umbrella hats made of lace; and a floppy hat that looked like something the Mad Hatter would wear on a sunny seaside vacation added an extra helping of peculiarity to the looks.
8. The shoes were also loud and fun, with boldly patterned loafers and oxfords for men and floral Mary Jane platforms and mirror-sequined go-go boots for women. The most memorable shoes of the night had to be the chunky Teva-esque men's sandals, partly because they featured mini aqua pom-poms that adorned the bright straps.
9. For dessert, enjoy these pics of the male models and their abs as they model swimwear.
10. Scott took his final walk with Aoki, whom he called "MY LOVE, MY MUSE, MY BABY WOMAN."
At the afterparty, when asked about how he felt about finally being able to go home after a show, Scott declared, "I feel spoiled rotten! I did Soul Cycle at 8:30 with Angela Davis, drove myself here in my own car. I'm loving life. I could go to Whole Foods and buy groceries!" Perhaps Moschino Resort is here to stay in LA.