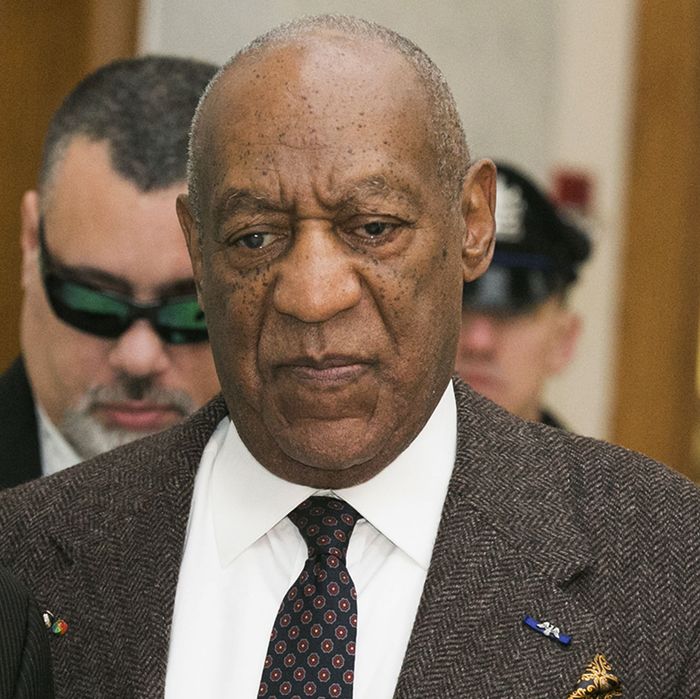 Prosecutors read pieces of Andrea Constand's 2005 police interview aloud in court last Tuesday, during a preliminary hearing to determine whether Bill Cosby would stand trial for a decade-old alleged assault. Now, a little more than a week after the judge agreed enough evidence existed to go forward with the case, more detailed transcripts of both Constand's and Cosby's 2005 statements to police have been made public.
The court files explain how Constand met Cosby when she was an employee at Temple University, and how the comedian took an interest in her and her potential broadcasting career. (Constand also told police she was gay, and had most recently been in a relationship with a woman.) The testimony outlines the alleged sexual abuse, and Constand's own struggle to come to terms with what she says happened to her at the comedian's house in the winter of 2004 — including why she waited about a year to go to police. "I want to say there was an element of fear," she told detectives. "Before I was going to say anything to anyone I had to put my own thoughts and feelings together." Constand continues:
I was emotionally shocked. I was still traumatized about the whole situation. I had some emotional distress that I was dealing with. I needed to come to terms with this on my own. I had to get clear enough about what happened so when I was ready to talk to someone I would be able to present exactly what happened.
Constand, who moved back to Toronto, Canada, not long after the alleged incident, told police she had a "flashback" about a year later. That prompted her to tell her mother that Cosby had "sexually violated her without me consenting." According to the interview, her mother encouraged Constand to go to police.
Cosby's attorneys have tried to undermine Constand's story by pointing to the year she waited until she spoke out. It's a strategy they'll likely keep pursuing if and when the case proceeds to trial. (Constand isn't allowed to talk about the case publicly because of the terms of her 2006 civil settlement with Cosby.)
Constand also told detectives that she had tried to confront Cosby after the alleged sexual assault, where Constand said the comedian gave her three blue pills "to take the edge off" at his Pennsylvania home. She became woozy and dizzy, and claims that, in that "paralyzed" state, Cosby fondled her breasts and penetrated her with his fingers.
So she decided to approach him, and saw an opportunity when Cosby called and invited her to a group dinner at a restaurant in Philadelphia. She went to his home afterward.
I walked in the door and sat down again at the table. I right away said I just need to ask you some questions about what happened. About the encounter that we had. Right away he blew it off and showed no interest in discussing it. He said, "I don't understand." He was confused. He didn't catch on that I wanted to confront him about it.
She went on, at the detectives' prompting:
I said, "I don't know what happened but I'm uncomfortable with what happened?" He said, "wait a minute, wait a minute, wait a minute."  He quickly changed the subject. He said, "What's going on?" He walked me to the same couch in the sitting room and was clearly confused about what was going on. I never mentioned the pills. I just said, "I don't know what you did to me." He sat close to me. Too close to me and I was disturbed by that considering what had happened in that specific place. At that point I didn't think I was going to accomplish what I wanted to do.
Constand says Cosby asked to see her again before a comedy show in Toronto, once she was back living in the city. She declined, but did accept tickets to the show. She also says she called Cosby, in December 2014, to call him out, but panicked and hung up. After Constand told her mother about the incident in January 2005, mom and daughter contacted Cosby — they recorded at least one conversation — to confront him over the phone. Constand says he apologized to both her and her mother separately.
Cosby's full 2005 statement is included in the court papers. In it he maintains any sexual contact between the two was consensual. He says he assured Constand and her mom that there was only "petting, and the touching of private parts." He tells police Constand, during the encounter in question, never told him to stop, and that she was conscious and awake.
Both Cosby and Constand gave their statements to police in 2005, more than a decade ago. The Montgomery County district attorney at the time did not press charges. Constand sued Cosby in civil court; the case was settled in 2006 for an undisclosed sum. The office began reinvestigating the case this summer after close to 60 women came forward with sexual-assault allegations against the comedian and depositions from that civil suit became public. The new district attorney reopened the case last year, and charged Cosby with three counts of aggravated indecent sexual assault in December 2015, just a few months before the statute of limitations was set to expire.