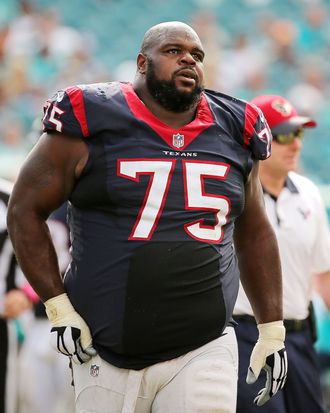 Vince Wilfork.
Photo: Mike Ehrmann/Getty Images
ESPN the Magazine's annual "Body Issue" is a testament to the power of athletes, including ones who may not fit people's idea of what an athlete looks like. Yesterday, the magazine said Vince Wilfork, a defensive tackle for the Houston Texans, would be among the pros appearing nude in the 2016 "Body Issue." The six-foot-two nose tackle won two Super Bowls with the New England Patriots and is listed at 325 pounds.
Wilfork hinted in a release that he probably weighs more than that, but he's not at all bothered, and thinks some people might get a boost from seeing him alongside Adonises. "I know I don't have the six-packs and the eight-packs and all that … but I'm perfectly fine with what I am." He added, "If people can look at me, look at a guy that's 325-plus doing an issue like this, I'm pretty sure that they might have a little confidence after seeing that it's OK to be who you are."
Unsurprisingly, when ESPN tweeted a photo of Wilfork with this quote superimposed, plenty of people found his comments more harmful than inspiring.
"Being obese is not 'who you are'. Promote self confidence but not at the expense of your health"
"This is wrong. You're a world class athlete. Not some lazy 300 lb guy eating chips and having heart failure … Don't encourage that"
Yikes, just imagine the tweets once the photos come out.
Yahoo sports called him "Hefty Vince Wilfork" before saluting him and saying they can't wait to see how he's displayed. After all, ESPN put 275-pound baseball player Prince Fielder on the cover in 2014. Whether Wilfork gets a cover or not, he's certain to receive a mixed bag of comments from adoring fans and judgy haters.