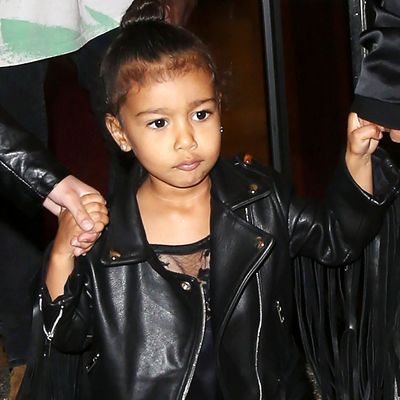 North West.
Photo: Splash News
North West turns 3 today, of all sweet days. In her three very famous years of life, North West has accomplished more as a toddler than most of us will, ever. Herewith, a brief history of her many, persistently trendy achievements.
Year One
She's born on June 15, 2013. In her first month of life, she meets the co-founder of Apple. Anna Wintour grants approval of her name. Her first baby picture appears on national TV, on the finale of Kris Jenner's talk show.
Later, she befriends Carine Roitfeld and Givenchy designer Riccardo Tisci (her stylist). She is the force behind Kanye's big fallout with Nike. He chooses Adidas instead, for her, and roils the fashion industry:  "The old me, without a daughter, would have taken the Nike deal because I just love Nikes so much," he said. "But the new me, with a daughter, takes the Adidas deal because I have royalties and I have to provide for my family."
She gets Charlotte Olympia kitten flats for her first Christmas and a bounty of gifts from other designers: fringed booties from Giuseppe Zanotti, silk pink booties from Hermès, and Stella McCartney onesies. Devastatingly, I own nothing from these brands.
She pees on Kanye right when Annie Leibovitz snaps a family portrait for Vogue's April 2014 issue. She gets her ears pierced and weathers Kimye's extravagant European wedding before her first birthday.
Year Two
June 15, 2014: Of course Kim and Kanye throw her a "Kidchella" birthday party! Kourtney's Native American headpiece offends many; children wear fringed Yeezus shirts. There are teepees and a Ferris wheel. That summer, North steps out of a swimming pool and takes her first steps. She accessorizes a diaper with Chanel, obviously.
In the fall she makes her Fashion Week debut, sitting front row at Balenciaga's Paris show in a Yeezus tour onesie and leather skirt. She's an adorable skunk for Halloween! Kanye reportedly drops $74,000 on her Christmas gifts: a $62,000 diamond tiara, and a tiny matte-black SUV to match his own. Sure!
She begins 2016 famously, appearing in Kanye's Spike Jonze-directed home video/music video "Only One." She stares at mud and looks enviously stylish for winter: fur-collared olive parka, duck boots.
At New York Fashion Week, she cries at the Yeezy show, won't stop, and has to be taken backstage. Kanye translates North's emotional depth for i-D: "She just wanted people to stop being mean to her daddy. Because she knows that her daddy loves the world and just wants to make it a more beautiful place." True. Love.
In the spring, during a family-heritage trip to Armenia, she takes a private plane to Jerusalem for her baptism in a 12th-century cathedral.
Year Three
June 15, 2015: As a Minnie Mouse fan, North kicks off her second birthday like the average toddler at Disneyland.
This year she deftly bosses paparazzi around while wearing a $2,000 custom Balmain jacket: "I said no pictures!"
She becomes a big sister to Saint and tends to a walk-in closet that is so much better than yours, all while wearing a Cinderella dress. She joins Taylor Swift's trendy choker cohort. She expertly owns her dad in the gym, as his personal push-up trainer.
Happy birthday, North! Can't wait to see what year four brings.