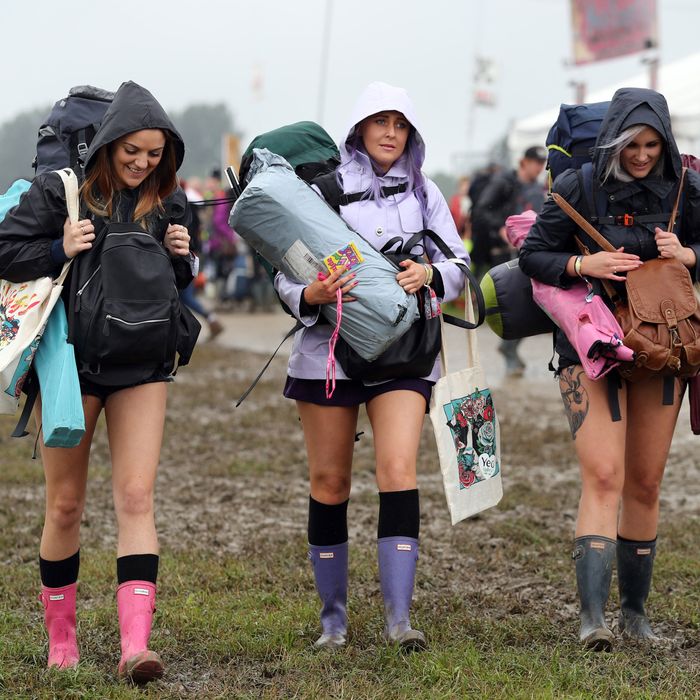 Don't go here.
Photo: Alex Huckle/Getty Images
England's legendary Glastonbury Music Festival begins this weekend, and judging by the early photos released by The Guardian, it's going to be a muddy one. And I'm not talking about a little Tennessee sod on the shoes. I'm talking about English mud — viscous rivers of it, engulfing everything and everyone as far as the eye can see.
I went to Glastonbury once, when I was 20. I'd been to Bonnaroo and Lollapalooza and a bunch of other 101-level American festivals, and I thought I could handle it. I was wrong. What began on day one as a light mud-squelch quickly turned apocalyptic, as 175,000 pairs of Wellington-clad feet churned 900 acres of sludge into a full-on country stew. I remember being stuck, knee-deep in mud, unable to move a limb, thinking: There is nobody around to rescue me. Centuries later they will excavate this field like the ruins of Pompeii and find my erect corpse, and they will know that I died trying to see Beyoncé, and that I failed.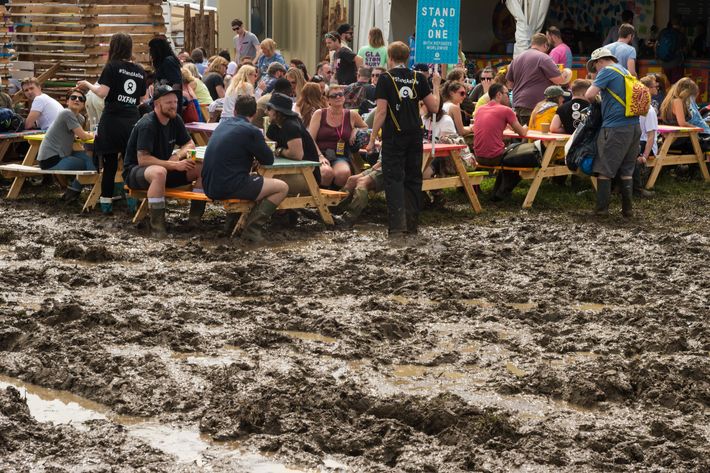 The thing is, the weather wasn't even that bad the year I went. I think it only rained a few times. In 2005, it got so bad they had to canoe around the festival. And still, the mud is all I remember. Not being in the front row for Paul Simon, who Brits don't really seem to appreciate, nor for an epic Wu Tang Clan show (ditto). Not hearing Beyoncé sing "Halo" to a crowd of 100,000 under a starry sky. No. I remember the mud. The mud that made every step a Herculean task, that squelched through your rain boots, that caked your pores, that permeated your tent, that seeped through to your very soul.
I should clarify that I am an indoor kid. I don't go camping or hiking, and this is probably the most outdoorsy thing I've ever done. So, if you've hiked Kilimanjaro or camped in Yellowstone, then good job, you can probably handle Glastonbury.