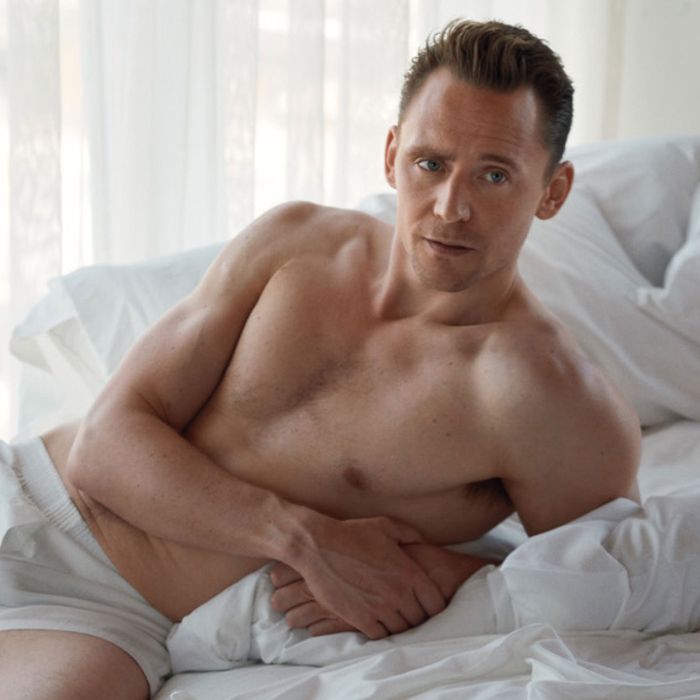 Tom Hiddleston.
Photo: Mona Kuhn for W Magazine
Taylor Swift's relationship with Tom Hiddleston is not even a week old, and it's already proving beneficial for all parties involved. After paparazzi "caught" the new couple making out on a secluded beach in Rhode Island, the resulting photos distracted the public from an unflattering depiction of Swift in GQ. Hiddleston, in turn, has enjoyed an elevated profile in his quest to become the next James Bond. W just published a hot, shirtless photo spread of the actor titled, "Everything You Need to Know About Tom Hiddleston, Taylor Swift Boyfriend."
The corresponding interview is not about Swift, of course; it was most likely conducted before Hiddleston earned the vaunted title of "Taylor Swift Boyfriend." But many people will be more interested to read it now, which is great for him and W. In the short profile, Hiddleston comments directly on the speculation that he may be cast as Bond:
"I'd make a terrible spy, because everybody knows who I am. But Susanne Bier, the director of The Night Manager, said that she thinks I am very enigmatic and good at keeping secrets."
And then, there's this:
Congrats to all.