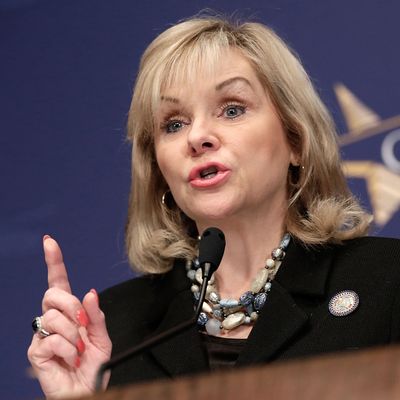 Oklahoma governor Mary Fallin.
Photo: Win McNamee/Getty Images
Last week, the pro-life governor of Oklahoma, Mary Fallin, signed a measure that tasks the state Departments of Health and Education with creating educational materials for "the purpose of achieving an abortion-free society."
Information distributed as the result of house Bill 2797, also known as the Humanity of the Unborn Child Act, "shall clearly and consistently teach that abortion kills a living human being." The state would also provide a list of public and private agencies that would help a woman while she's pregnant and after the baby is born, whether she chooses to keep the child or put him or her up for adoption. The Department of Health site would say that "The State of Oklahoma strongly urges you to contact them if you are pregnant."
The bill also establishes a "Public Education on the Humanity of the Unborn Child Fund," which would support an instruction program for public school students in grades 9 through 12. The program should include information on how to access prenatal health care, although neither the program nor teachers can refer students to a medical facility or provider for an abortion. And the program can't mention any component of human sexuality not included in science education standards.
Oklahoma Democrats did at least try to include things like comprehensive sex ed and and family planning services in the bill, but both amendments were shot down by Republicans. So, yes, teens will learn that life begins at conception but, curiously, they will not be taught about sex or how to prevent pregnancy. Parents would be given advance notice and have the right to keep their children out of such classes. The bill will go into effect on November 1.
Slate points out that Oklahoma doesn't have the budget for any part of this bill, so either the anti-choice pamphlets and classes won't happen or they will, just literally at the expense of some other program.
If Oklahoma really wants a society with fewer abortions, perhaps they should call up their neighbors in Colorado, where free, long-acting birth control lowered the teen pregnancy rate by 40 percent and the abortion rate by 42 percent.