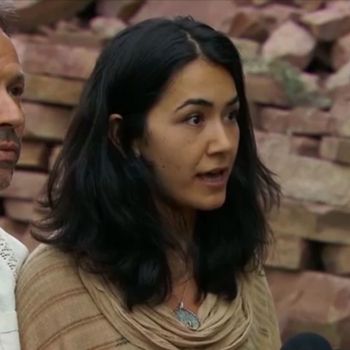 Sitora Yusifiy with her fiance
After Omar Mateen killed 49 people at gay nightclub Pulse in Orlando — the deadliest mass shooting in U.S. history — his ex-wife came forward to say that he was physically abusive and unstable.
Sitora Yusufiy was married to Mateen for four months in 2009, though their divorce was not finalized until 2011. They initially met online — Yusufiy, who emigrated from Uzbekistan in 2000, told the New York Times, "I had already started getting hints from my family — Oh, it's time for you to get married, we want to set you up with somebody. I wanted to find somebody that I could relate to, and find him for myself." The relationship ended shortly after when she says her family had to "literally rescue" her.
Yusufiy alleges that Mateen was "mentally unstable" and an "imbalanced person." She also says that he was physically abusive:
A few months after we were married I saw his instability, I saw his bipolar, and he would get mad out of nowhere, and that's when I started worrying about my safety.

Then after a few months he started abusing me physically, very often, and not allowing me to speak to my family, and keeping me hostage from them.
According to Yusufiy, Mateen was not radicalized when they were together, though "there were definitely moments when he'd express his intolerance toward homosexuals."
About a year ago,  Mateen attempted to reconnect with her via Facebook message and she immediately blocked him.
Yusufiy added, "More than anything, I was so deeply hurt and heartbroken for those who lost their loved ones, the families that are now suffering."