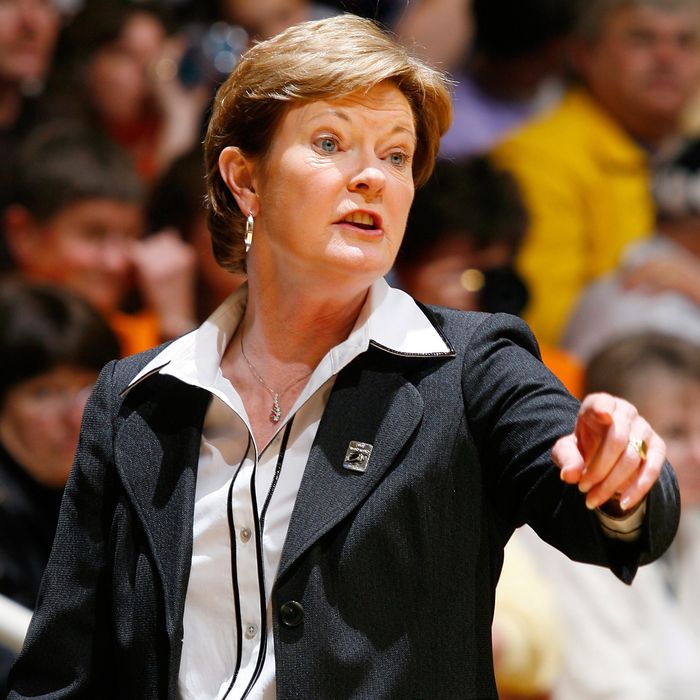 Pat Summitt.
Photo: Joe Robbins/Getty Images
Pat Summitt, who won more games than any coach in college basketball history, died on Tuesday at age 64. In 2011, Summitt revealed that she had been diagnosed with early-onset Alzheimer's, though she went on to complete the 2011–12 season with her famed Tennessee Lady Vols team, whom she coached for 38 years.
Summitt was a legend for many reasons, most notably for winning eight national titles and 1,098 games. She was the first college basketball coach, male or female, to reach 1,000 wins, and she never had a losing season in nearly 40 years. She was an Olympic gold medalist, an inductee to five different halls of fame, and an inspiration to many players and assistant coaches who worked with her throughout her career, 19 of whom went on to coach teams themselves. Between 1976 and 2011, every player on the Lady Vols got a chance to play in at least one Final Four thanks to Pat. In a statement released this morning, President Obama noted that Summitt had "a 100 percent graduation rate among her players who completed their athletic eligibility."
But Summitt was more than the sum of her achievements — she was legendarily committed to basketball, to women, and to women's basketball specifically. Here are six Summitt stories that give some insight into what made her such a uniquely beloved sports figure.
• When Summitt was inducted into the Basketball Hall of Fame in 2000, she said in her speech, "I think God's plan for Pat was somehow I needed to make a difference for young women, and my avenue — and hopefully it was the right avenue — was through the game of basketball." She was also named Naismith Basketball Coach of the Century. The prior year, she had been inducted into the inaugural class at the Women's Basketball Hall of Fame.
• Summitt was also respected in her sport for insisting that education was her players' first priority. She was adamant that her players sit in the first three rows in lectures, saying, "Class is more important than a game."
• In 2011, when Summitt was inducted into the Tennessee Hall of Fame — her fifth! — she said she saw herself as a representative of all women. "There's a lot of successful people in this room, and I have a lot of great friends here. It was touching. I was very humbled," Summitt said. "But I want to keep doing the right things for women all the time." As was her habit, she led the room in a rendition of the Volunteers' unofficial theme song, "Rocky Top."
• In 2007, to show her support for the men's basketball team at Tennessee, Summitt showed up to a game in a Volunteers cheerleader uniform to sing "Rocky Top" to a crowd of screaming fans. She had been paying back Bruce Pearl, the then-coach of Tennessee's men's team, for showing up to a Lady Vols game dressed in full-body paint a month earlier. "My cheerleading days are over. I did this for Bruce Pearl and his basketball team and all the Vols fans," she said after the game.
• She was driven purely by a desire to not lose. "I despise it," she said. "It eats at me. I get physically sick." She was known for being tough on her players, but said that after she had her son, Tyler, she found herself becoming a little softer toward her team, trying to be more accommodating to their needs. "I've had to adjust," she told U.S. News in 2007. "I used to take it out on my players. You have to be very secure to stop and think about what the players need from you."
• Though she received two offers to become the first woman ever to coach a Division I men's team, which would have brought more fame and money, she always felt the suggestion she do so was an insult. "Why is that considered a step up?"