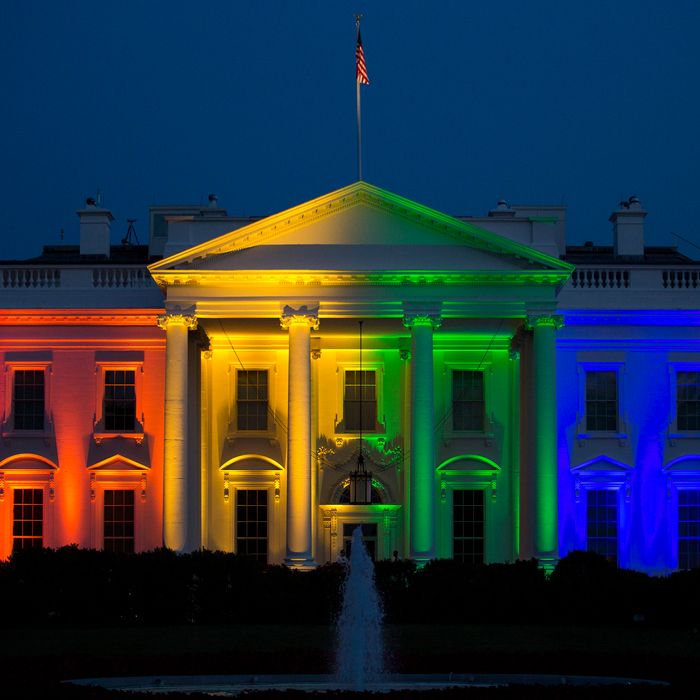 Red, white, and rainbow.
Photo: Drew Angerer/Bloomberg/Getty Images
Following the news that the U.S. Military would seek to end its ban on transgender service members, Defense Secretary Ashton Carter made the move official on Thursday. During a press conference, Carter said, "Effective immediately, transgender Americans may serve openly, and they cannot be discharged or otherwise separated from the military just for being transgender."
He explained that the changes would roll out over the next year, but told commanders to "start with the presumption that transgender people can serve openly without impact on military readiness." Carter has long been an opponent of the ban; last year he called it an "outdated, confusing, inconsistent approach that's contrary to our value of service and individual merit," and he lobbied for its removal.
Under the new policy, the some 2,450 active-duty service members who are transgender can come out without fear of consequence, but new transgender recruits won't be able to enlist for a full year. Transgender people who want to enlist after that period will reportedly need to show documentation proving they have been living as their current gender identity (which won't necessarily require surgery) for 18 months and are "free of any distress."
Military members who begin their transition during their service will receive medical care, including surgeries — a study commissioned by Carter found this care would necessitate "extremely minimal" costs. He added that the Defense Department will amend the Military Equal Opportunity policy to include a clause that prevents discrimination based on gender identity.
Just before the announcement, Captain Jennifer Peace — a transgender Army Intelligence officer who's completed two deployments and has advocated for her right to serve — met with Carter in his Pentagon office. "I was proud that I could tell him I was transgender," she said. "Not that it says anything about who I am, but that it highlights the accomplishments of my career that I have made despite that fact. I wanted him to see what a trans soldier is capable of contributing to the military."