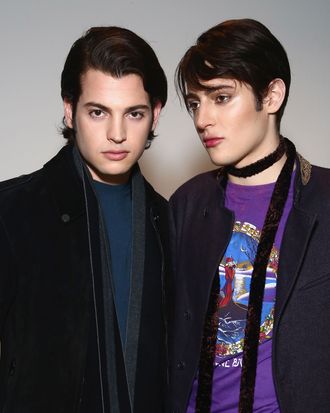 Peter Brant, Jr.
Photo: Astrid Stawiarz/Getty Images
The Brant brothers' gender-fluid M.A.C cosmetics line just hit stores this week, but Peter Jr. wasn't wearing any of the products when we ran into him at Paddle8's fifth-anniversary party on Tuesday.
"I haven't gotten my samples yet," Peter said. "Literally today, my brother and I were like, They haven't sent us anything, we're going to have to just go buy it. My brother went; my mom gave him a bunch of money so he could get some for her, and for everyone. We had to get it for my cousins and everything. So my brother went to the store today and picked up, like, a million things." So why didn't he put some on? "I haven't had my chance to dig into it yet," he shrugged.