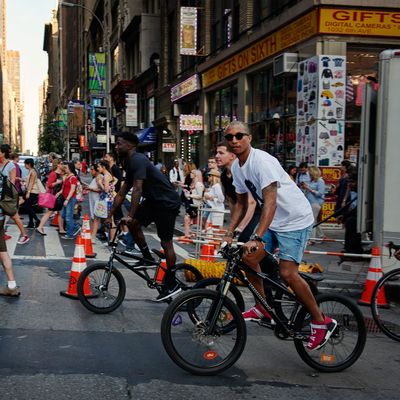 Pharrell Williams.
Photo: Lesley Weitjes/Courtesy of G-Star
Yesterday afternoon a cadre of BMX bikes, led by fashion enthusiast Pharrell Williams, made their way from Williamsburg to Midtown Manhattan. Williams recently became a co-owner and "head of imagination" of denim company G-Star RAW, following a two-year collaboration between his company Bionic Yarn and G-Star on RAW for the Oceans, which makes fabric out of recycled beach detritus. He'd embarked on this two-wheeled odyssey to kick off the celebration of the opening of the brand's new flagship store on Fifth Avenue and 41st Street.

The bikes stopped at the party where an attractive crowd of vaguely euro-looking corporate executives mingled with New York City streetwear hipsterati. Men with shoulder-length hair and wide-leg pants, showing plenty of mankle, spoke to FKA Twigs–inspired beauties with elaborate braids, short jean shorts, and nose rings. The eclectic crew sipped Champagne amid the skinny jeans, while guest DJ Virgil Abloh played Kanye's "Father Stretch My Hands Part 1."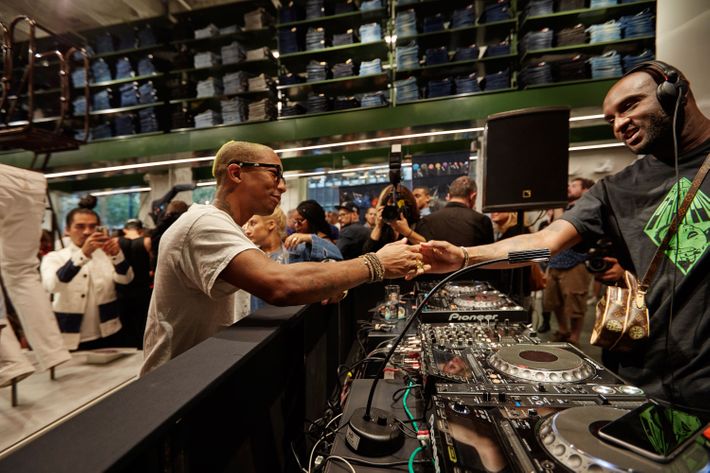 Later, at the intimate dinner at the Nomad hotel, Pharrell glided gently around the room, animated by the belief in a higher cause, shaking hands and laughing with the G-Star team. The press release informed us that Thecla Schaeffer, CMO G-Star RAW had said, "In working with Pharrell Williams we wish to continue to innovate by allowing Pharrell to push the boundaries even further across all aspects of our business from creating new product ideas and new visions on sustainability to creating new brand experiences."
Pharrell, too, had thoughts on sustainability, which he shared with the Cut last night, considering his words carefully. "We all have a responsibility. I'm not perfect, but I want to do things that help." His eyes were barely visible through his dark, round sunglasses, but his skin gleamed, as smooth as a baby dolphin, and for a brief moment it seemed like the best thing to ask him would be about his beauty routine. His smile disarmed that line of questioning and a radiant joy beamed from this face. "How do you stay so positive?" we asked instead.

"Grateful is a positive word, you know?" He presses his hands together in a prayer position and bows his closely shaven head, which has been dyed with a yellow stripe. And what is he most grateful for?
"God." He takes a deep breath. "God is everything. That's how I got my family. That's how I got all this."

And then he poses graciously for a selfie with an executive from G-Star. Dinner is served.