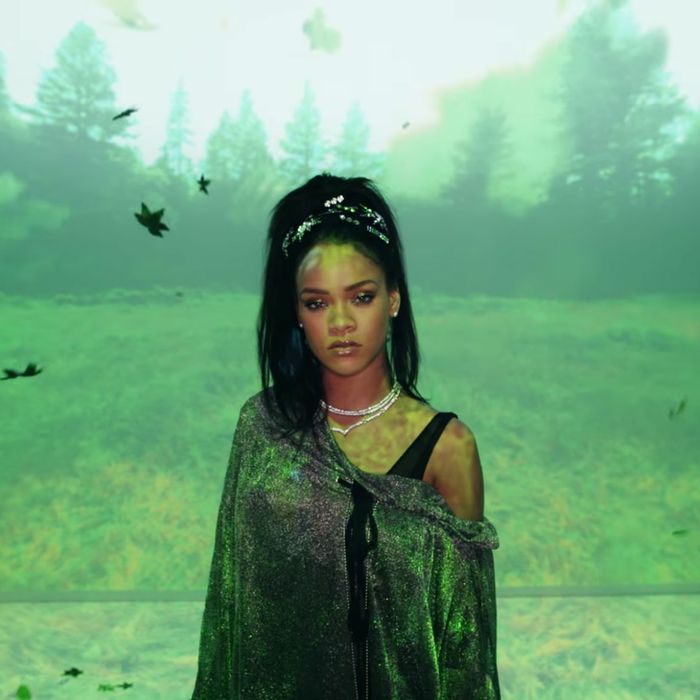 Rihanna wears an Isabel Hall look in her video.
If you weren't too distracted by the strobe lights, you might have noticed that Rihanna is wearing a Studio 54–worthy glitter jumpsuit in the video for her new Calvin Harris collab, "This Is What You Came For." So … was it vintage Halston? Current-day Gucci? In fact, it's the work of a brand-new Pratt Institute fashion graduate named Isabel Hall.
Hall first caught the eye of Rihanna's stylist Mel Ottenberg when he attended the school's graduate fashion show last month. Ottenberg "initially pulled the jumpsuit for a different shoot, but got in touch again when he was working on the music video," Hall tells The Cut. She originally had the idea to include glittery mesh boxer shorts layered over pants in her senior thesis collection. But after talking it over with one of her professors, she decided that the fabric was special enough to merit its own full look.
It's not the first time Rihanna and Ottenberg have helped catapult a recent grad into fashion stardom: Everyone's favorite bad gal is also a fan of recent Parsons alum Matthew Adams Dolan. Says Hall, "Rihanna wears clothes with a confidence and an attitude that I think often go unrivaled, and she has always been at the top of my list of people I would want to dress. The fact that it happened with a piece from my thesis collection is something I never could have predicted, but am ecstatic to see!" Watch the whole thing in motion below.