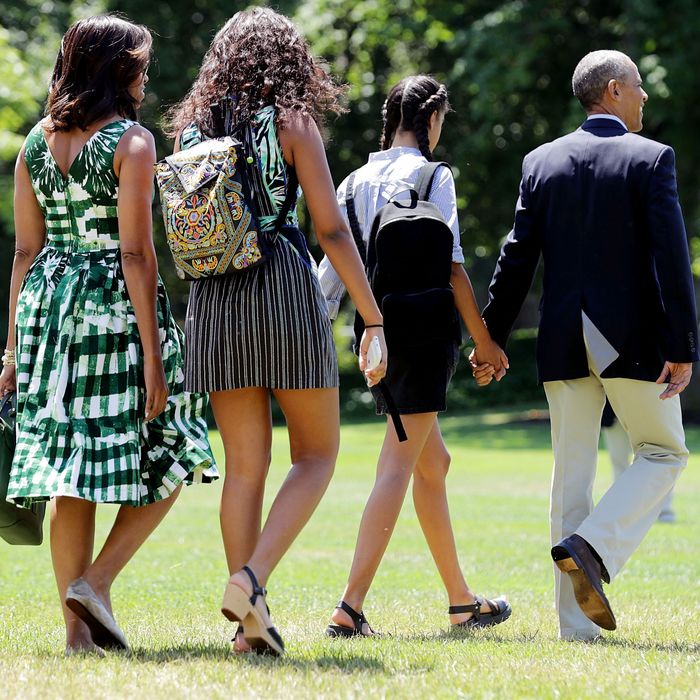 The Obama Family
Photo: Chip Somodevilla/Getty Images
As President Obama nears the end of his second term, his legacy is being examined from every angle. A new book, however, makes the argument that it's his hands-on parenting style that makes him really stand out from his peers.
Presidents are very busy — we all know this! So it isn't super-surprising that many presidents examined in Joshua Kendall's First Dads: Parenting and Politics From George Washington to Barack Obama were found lacking in the dad department. Between the demands of the job and the required traveling, they just didn't put in the hours.
Not so for Barack Obama, who once noted, according to Kendall, that he didn't "want to be the kind of father I had." Our sitting president rarely ventures to Camp David, the retreat of many presidents, because Sasha and Malia's lives are in Washington, D.C. Dinnertime is "sacred" to the Obamas, notes Kendall, and they eat together five nights a week. Obama also has a "perfect attendance record" for both daughters' parent-teacher conferences. He is, Kendall says, one of only a handful of presidents to be "exemplary" fathers. (Other examples: Truman, Monroe, and Ford).