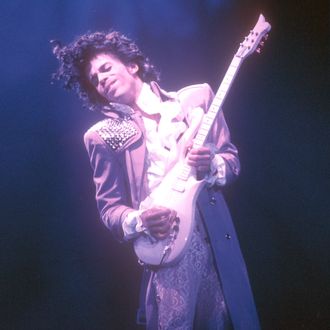 Photo: Michael Ochs Archives/Getty Images
Prince died from an overdose of fentanyl, a synthetic opioid 50 times stronger than heroin, according to a medical examination made public today. Under "how injury occurred," the report reads: "The decedent self-administered fentanyl."
According to a Fusion in-depth report on the drug, fentanyl, synthesized in the 1960s, was first used as a general anesthetic. Today it's often prescribed to relieve pain in cancer patients and administered via patch, injection, or lozenge. The drug is stronger than oxycodone or morphine, and it's easy to overdose on, the Minnesota Star Tribune reports, since patients might use two or three day-long patches rather than just one. The product design, if you will, of a drug seems to matter with overdoses: OxyContin deaths went down when a new formulation made it harder to crush or dissolve.
"We need to see the Prince in all of us," Dr. David Kessler, former commissioner of the Food and Drug Administration, told the Los Angeles Times. "It's a wake-up call for how we view these drugs." You start using drugs like fentanyl because you're advised that it will help with your pain, he said, without being clued into the risks of addiction. Kessler added that it's crucial to not scold addicts for their "bad behavior"; everybody is vulnerable to medications like these.
With this news, Prince becomes the most famous face — along with actor Philip Seymour Hoffman — of America's opioid epidemic. Opioids killed more than 24,000 Americans in 2014, a report from the Centers for Disease Control says, the most ever. The rate of synthetic opioid deaths just about doubled from 2013 to 2014, and a CDC report finds that the rise of deaths coincides with more and more police reports of illicitly manufactured fentanyl.
Since 2000, the U.S. has seen a 137 percent increase in drug-overdose deaths overall. Deaths from opioids have gone up 200 percent.