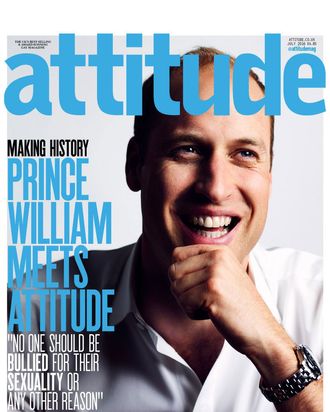 Attitude magazine's July issue.
Photo: Attitude Magazine
In a first for the royal family, Prince William covered a leading British gay magazine, speaking out against bullying of the LGBTQ community.
For Attitude magazine's July issue, editors invited William to meet with a group of young LGBT people, who shared their experiences with bullying before his cover shoot with photographer Leigh Keily. Prince William listened to their stories, which echoed the widespread effects of being bullied for your sexuality — they discussed depression, low self-esteem, drug addiction, suicide attempts, eating disorders, and one man who died from an accidental overdose.
The magazine went to press on June 8, days before the Orlando nightclub shooting, making Prince William's interview seem all the more apt:
No one should be bullied for their sexuality or any other reason and no one should have to put up with the kind of hate that these young people have endured in their lives … What I would say to any young person reading this who's being bullied for their sexuality: don't put up with it – speak to a trusted adult, a friend, a teacher, Childline, Diana Award or some other service and get the help you need.

You should be proud of the person you are and you have nothing to be ashamed of.
Prince William is known for his crusade against bullying. He recently created a cyberbullying task force and, with Kate Middleton and Prince Harry, leads the Heads Together campaign to promote mental-health awareness. The future king of England: on point.