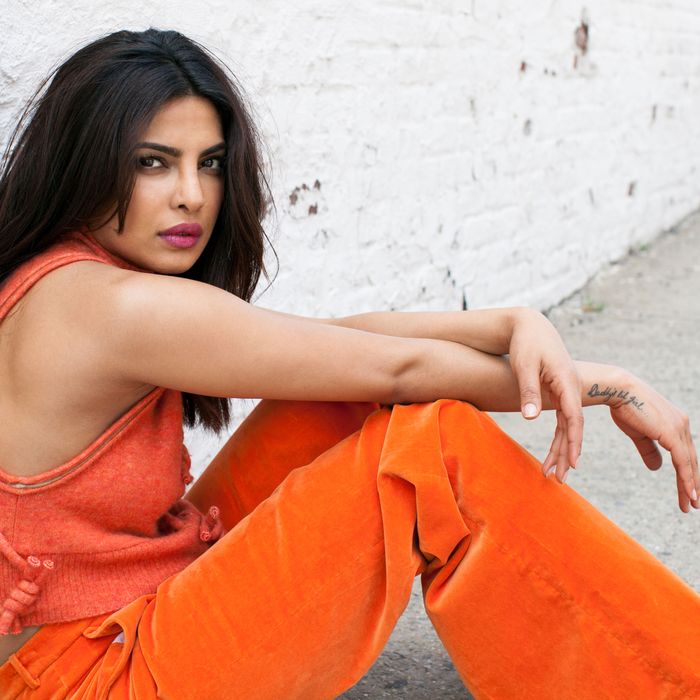 No one would have faulted Priyanka Chopra for resting on her laurels. A few years ago, Chopra was one of Bollywood's biggest celebrities: a former Miss World who was busy starring in international hit movies and recording platinum singles. But instead of stopping there, Chopra took a job with the ABC show Quantico, which went on to become a success for the network. The show was just renewed for a second season, and in 2017 Chopra will star in a new Baywatch adaptation. It's safe to assume we'll be seeing her on Hollywood red carpets for years to come.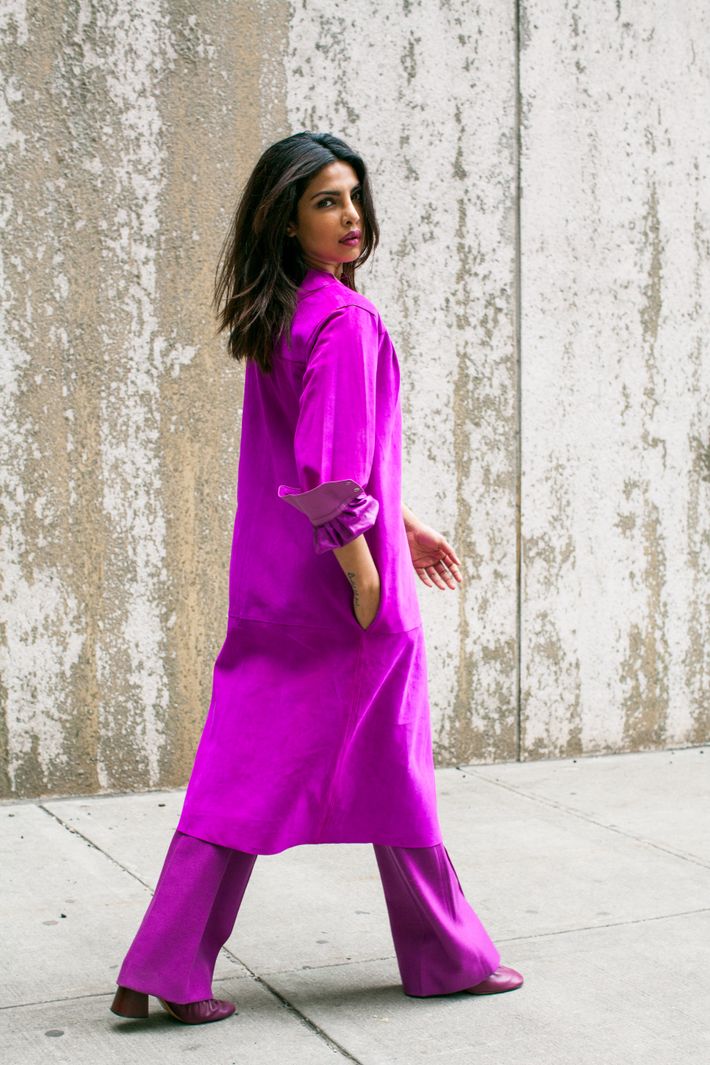 Céline dress, $5,700, Céline pants, $2,350 and Céline pumps, $990 at Céline Madison Avenue.
Adorably, Priyanka says her personal original story has a lot in common with The Fresh Prince of Bel Air: "When I was 13, I would come visit my aunt and uncle in New York. I decided I wanted to live with them after seeing my cousin's school. Honestly, I just wanted to go to a school where I didn't have to wear uniforms, and my mom said okay."
She stayed in the U.S. for a few years, going back to India at the age of 16 with the intention of becoming an aeronautical engineer. Fate would have it that when she took head shots for a scholarship program, a family member sent them to the Miss India contest and she won. "I went on and happened to win the India Miss World and movies started coming my way," she explains. "In the meantime I was still going to college and trying to study, but once my first film did really well, I never looked back. It definitely set me up to be able to be in the big bad world of entertainment."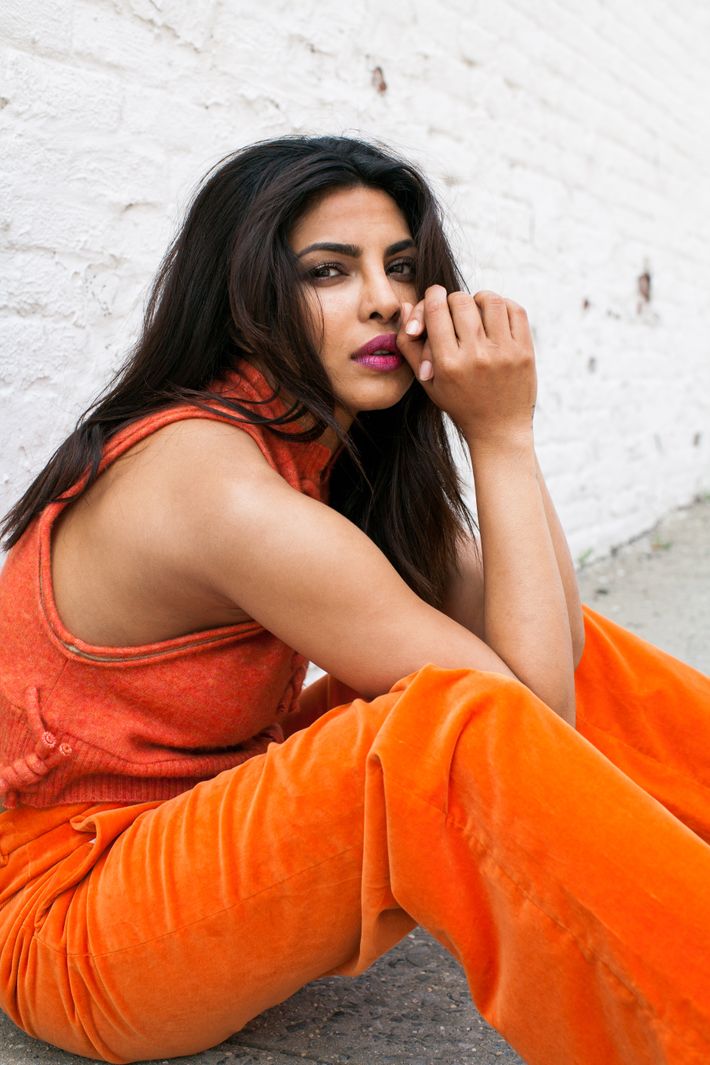 3.1 Phillip Lim top, $395 at 31philliplim.com, Joseph pants, $475 at joseph-fashion.com.
Even then, Chopra wanted to be a household name in Hollywood productions, not just ("just") an international star. She's extremely hardworking — something you pick up from spending less than a minute with her — and it's clearly paid off, as she is the first Indian woman to headline an ABC show. "As an entertainer I try to do projects that reflect a woman having the ability to stand up for herself," she says.
When ABC handed her some 26 scripts for her to read, Quantico stood out because it had all the elements of quintessential good television: action, romance, the spycraft of shows like Sherlock Holmes, and fight sequences that have people calling Chopra a female James Bond. Chopra says she was drawn to Alex, her character, because, "she's intelligent and a badass rebel with a cause. She lives life on her own terms, and she's a little anti, you know? I like the mixture of softness and hardness."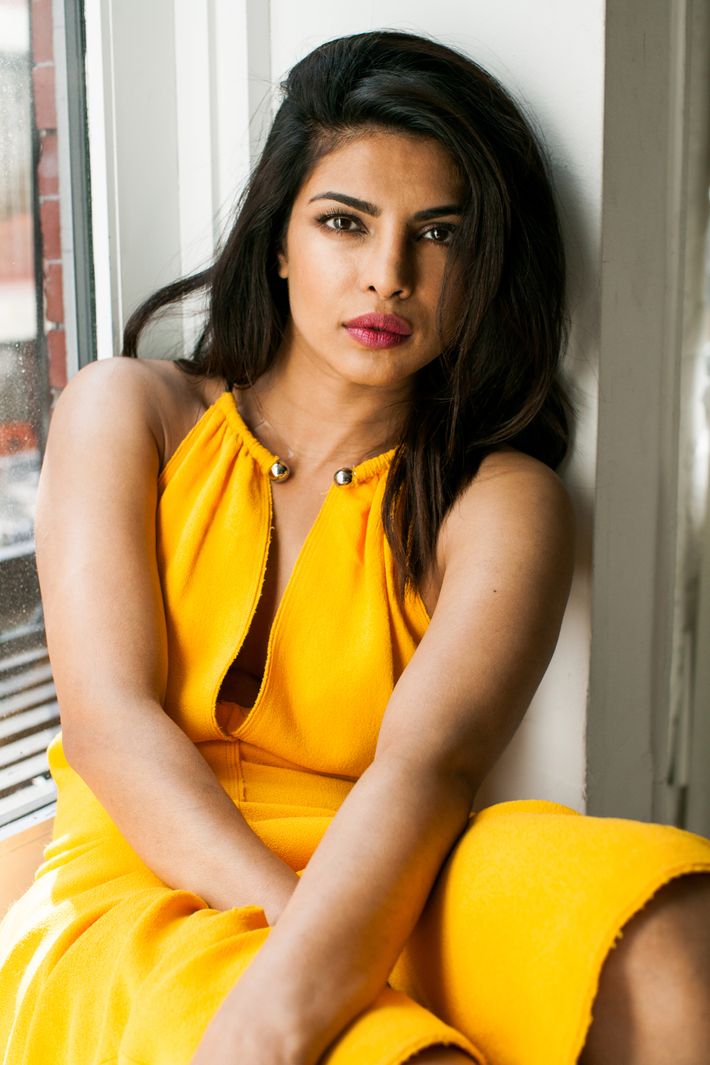 Proenza Schouler dress, $2,750 at proenzaschouler.com
Much like her character on Quantico, Priyanka is as relatable as she is charismatic, which is probably why Time named her one of the 100 Most Influential People this year. "It was a big honor to be included and on the cover! I was very humbled — especially because of the fact that I'd been on American television for just about seven months. But it felt great to be acknowledged for my work because I work really, really hard and it gives you validation of the fact that maybe you're doing something right."
Chopra has made it a priority to use her powers for good. She's been known to donate millions of dollars to causes devoted to education and the health of adolescent girls. "India is one of the youngest countries in the world and almost 65 percent of our population is under the age of  35. I've been doing a lot of work on female rights, especially adolescent rights. I've been to a lot of schools where the UNICEF had set up villages in India, and it's an eye-opening experience."
When I ask her about finding the time for philanthropy in her busy schedule, she says, "I think there's a social responsibility that comes with a public platform. Because of the position that I've been put in, I think it's important to use my voice to do as much as I can."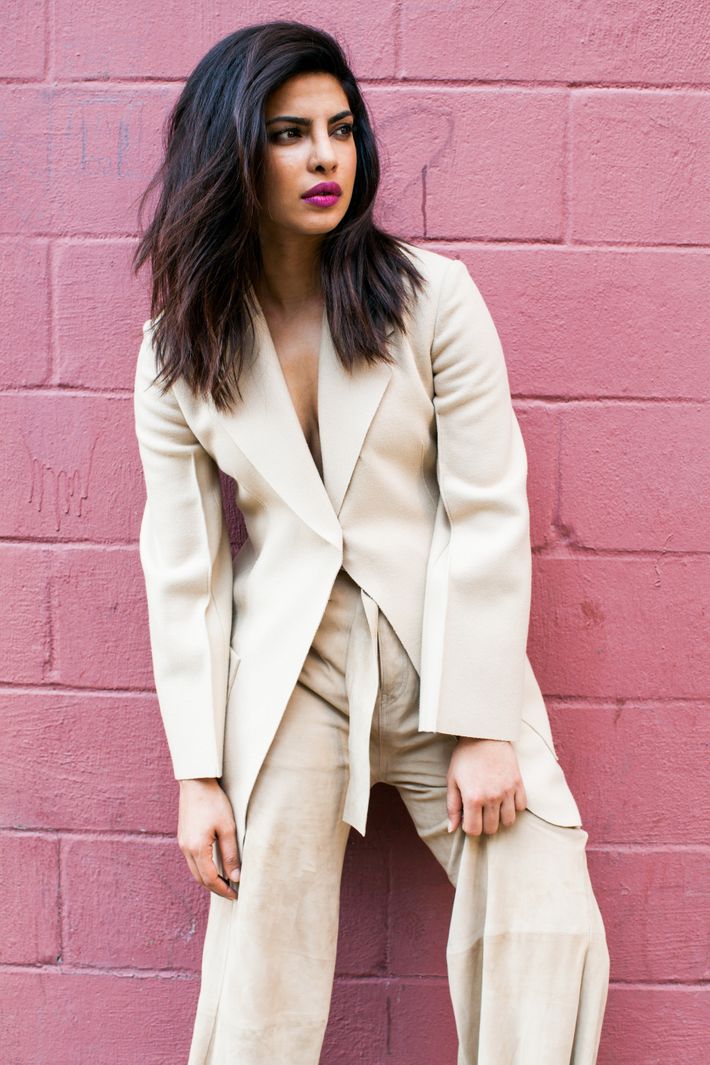 Calvin Klein blazer, $1,885 and Calvin Klein pants, $1,750 at calvinklein.com
That platform is about to get even bigger with her lead role in the new Baywatch film, set to release in May 2017. Her part was written for a man, but Chopra has made it her own. "It was really interesting for me and my character — Victoria has evolved into this very beautiful bitch in couture that takes on the lifeguard squad. They come in her way of building a better world that she believes in. It's like a superhero movie set in Baywatch."
If you're one of the millions of people following her on social media, you probably already know that Quantico is starting to film its second season in New York, and is also premiering in France, the U.K., and Spain. Still, despite all her traveling and projects, Chopra remains focused on her work. "Storytelling is the oldest form of entertainment in humanity. And that's what we do. And it can be told via any medium."
Photos by Andre Wagner, makeup by Samantha Lau, hair by Ted Gibson, styling by Lindsay Peoples.