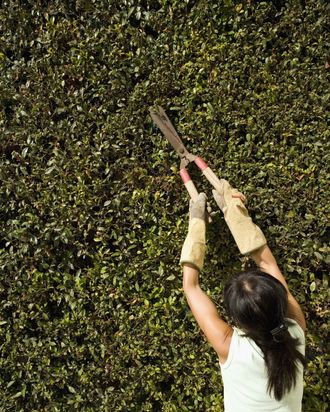 Photo: Brandon McGanty/Getty Images
For a study published in JAMA Dermatology, researchers at the University of California San Francisco surveyed a nationally representative sample of 3,300 women between 18 and 65 about their preferences and routines when it comes to grooming their pubes. It turns out that the women who are most likely to groom their pubic hair are young and white, and have partners who prefer it.
They found that 84 percent of women surveyed had groomed their pubic hair and 16 percent had not. Most women said they groomed once a month (24.4 percent), 24 percent said weekly, 22 percent said every three to six months, and about 5 percent said they did so daily. About 21 percent said they didn't do it regularly.
Shaving was the most common grooming method at 61 percent, followed by trimming (18 percent), using an electric razor (12 percent), and waxing (5 percent), which is surprising given how many women's magazine articles are devoted to getting a Brazilian. And while many women said they groomed for "hygienic purposes" (59 percent), more than 20 percent said they did it because their partner preferred it. Guessing that number was even higher for porn-loving millennials. Things that did not affect whether women groomed: how much they made, where they lived, their relationship status, how often they had sex, the type of sex they had, or the sex of their partner.
The study, which is believed to be the first "nationally representative assessment of contemporary female pubic hair grooming habits" isn't a weird voyeurism thing, it's just meant to help understand women's motivations for grooming since it can lead to cuts and other injuries below the belt.
"What is most apparent from the study is that women are grooming based on numerous external pressures that have likely increased over the last decade," said lead author Tami Rowen, MD, an assistant professor of obstetrics, gynecology, and reproductive sciences at UCSF. Those pressures include "the increased prevalence of pornography that depicts bare genitalia, popular magazines, and television."
If you would like to reduce the external pressure on your pubic hair, perhaps treat it to this oil?