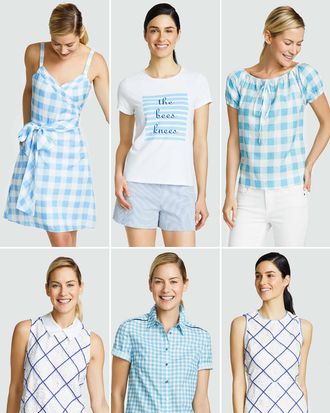 Looks from Draper James.
Photo: Courtesy of Draper James
Do you like the bastardized meal "brunch," but wish that it involved more gingham dresses, windowpane check, and message T's? Luckily, Draper James, Reese Witherspoon's "Southern heritage-inspired" clothing line, has jumped into the nascent "brunch dressing" niche with a new line of frocks and T-shirts designed specifically for this activity. (It involves a lot of white, so maybe don't order the huevos rancheros if you're clumsy.)
The collection, which launches today, also includes dishes with the commands "Kiss My Grits" and "Butter My Biscuits." Expect to see the looks soon on No. 1 Draper James fan Reese Witherspoon.