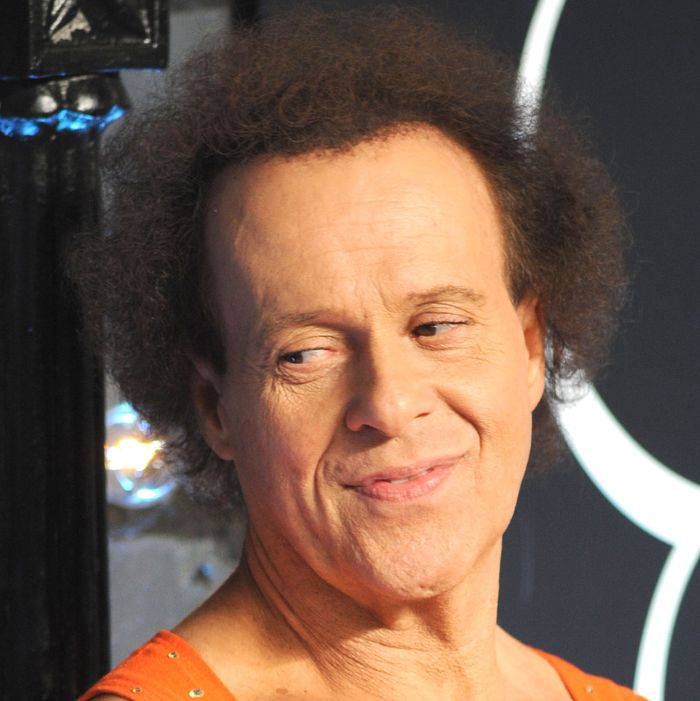 Stay well, Richard.
Photo: C Flanigan/FilmMagic
Beloved fitness guru and pop culture icon Richard Simmons was reportedly hospitalized Friday night at Cedars-Sinai hospital in Los Angeles, although he has since been discharged. TMZ broke the story about his hospitalization, reporting that Simmons was "exhibiting bizarre conduct." In the follow-up story about his discharge today, TMZ added, "Our sources say his housekeeper and longtime friend is the one who called 911 after Simmons became incoherent."
Meanwhile, Entertainment Tonight reported, "The Los Angeles Fire Department confirmed to ET that they responded to a call at 11:52 p.m. at the 67-year-old fitness guru's home. One person was transported to the hospital via ambulance." The LAPD couldn't confirm whether that person was Simmons himself.
Rumors have been swirling around Richard Simmons since he stopped appearing in public back in 2013, but they came to a head after the New York Daily News published a story in March that went so far as to suggest that he was possibly being held hostage in his own home. A day after the story was published, Simmons's representative Tom Estey made an official statement to People about Simmons's health and safety. "Richard, after 40 years of being in the spotlight, is now simply taking a break from the public eye and working behind the scenes to continue to help those millions of people worldwide in need of his assistance and on several projects to be announced soon."
Simmons spoke exclusively to ET in the wake of the NYDN story, telling ET's Brad Bessey, "No one should be worried about me. The people that surround me are wonderful people who take great care of me."