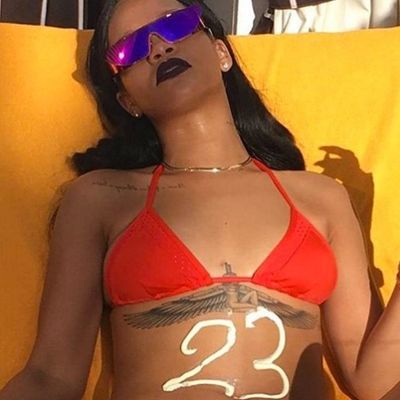 Rihanna
Photo: Courtesy of Instagram/badgalriri
Last night when the Cleveland Cavaliers won their first NBA championship, excitement ran high. LeBron cried, Clevelanders lost their collective minds, and Rihanna, well — she out Rihanna-ed herself.
LeBron James's number-one fan, who delivered previous Instagram gems like this one, took to the social-media platform once more to pay respect to the king.
Then, she lobbed a throwback photo, which featured her stomach smeared in sunscreen that etched LeBron's jersey number. Sun protection as a form of endearment? How thoughtful!
An hour later, she lovingly gazed upon his face and embodied all the zeal of my baby cousin at a One Direction (R.I.P.) concert.
And then followed it with a meme to mock Curry again.
Just when you thought Rihanna might have completely lost her cool, she reigned it in with this post. In Rihanna's world, being a fan is an art, and she's the Michelangelo of that bitch.