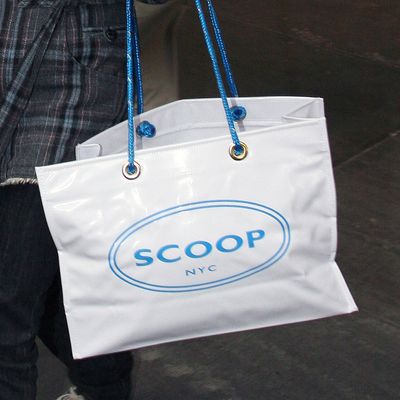 Photo: Ahmad Elatab / Splash News
Right now, among the jail-broken iPhone 5s and cashmere Burberry scarves on eBay, you'll find two shopping bags from Scoop NYC.
One is made with completely transparent vinyl so you can see everything inside. It has silver-gray accents, and it goes for $55. The other is yellow vinyl with fuchsia accents and Tweety Bird lounging cross-legged across the top of the logo. Tweety's holding out her hand like Let me present this beautiful bag to you and then the world. We're a team now. That bag goes for $45, and for the past couple of days it's been viewed by one person every hour.
These aren't the only empty shopping bags on eBay — there's Hermès (two for $15) and Supreme ($7, comes with a sticker) — but they are by far the most expensive.
I first beheld a Scoop bag in April 2006 during sophomore year of high school, on 74th and Third. I'd finally convinced my dad that it was worth spending $140 on a Free City hoodie because it had a pastel-yellow dove, and also, it was my birthday. Scoop was the only place you could buy Free City at the time, so getting this would mean I would own two of my high school's most powerful status symbols: Free City and the bag.
The hoodie was super soft, but the bag was something else. That plastic, so substantial it felt like you were given a gift along with your purchase. The stitching with real thread, because a carrier so fine was worth more than mere glue. The thick rope strings, because this was a container for a product that deserved only the strongest support.
Carrying that bag, I was sending out a signal to the world: I was sophisticated enough to understand the value of a $140 hoodie you couldn't get anywhere else. I was cool or fashionable or rich enough to shop at Scoop (only this once and only after a lot of begging, but still). The bag worked even better carrying something unglamorous, instantly upgrading gym clothes and lunch Tupperware.
You couldn't walk out with the bag for anything less than a Missoni headband, so owning one became aspirational, exclusive. Scoop was the place you would go if you wanted to drop $550 on a work top, not necessarily because it looked like it was worth that price, but because you could pay for it and also let everyone know you did. In a store full of overpriced clothes that mostly just acted as symbols, those indestructible bags were the ultimate code.
Shopping bag as status symbol is a phenomenon that goes beyond fashion. A tote from the Strand or The New Yorker or NPR represents one kind of New York archetype; Scoop bags represented another. The girl who always somehow ends up at a Fashion Week show, even if it's just Rebecca Minkoff. Who started her own jewelry line after college because she wasn't sure what else to do, but still lives with her parents on the Upper East Side. Whose Facebook friends all seem to be up-and-coming models, except for the ones who are DJs. It seemed cool in high school.
The Scoop bag mattered because there was only one place and one way to get it, but eventually they became too common. And now the end is here, perhaps because those bags were so damn expensive for Scoop, too. A marketing executive who's designed bags for Dior and Berlutti estimates they cost something like $5 each to produce. ("My bags were always expensive, but those were really expensive," he says).
In the era of the barely branded Mansur Gavriel tote, it's not really a surprise that Scoop just closed all of its stores. It was where Naomi Campbell, Jenna Bush, and "Toxic"-era Britney Spears first discovered skinny jeans; where its founder Stefanie Greenfield once transformed the shopping experience by organizing racks by color and type, not brand — a small, independent boutique in New York City that actually competed with Barney's and Saks. But it had been on a slow downward slog since 2008, when Greenfield left, and it had to contend with copycats like Intermix and, eventually, stores run by the brands it helped popularize, like Rag & Bone. No longer "the ultimate closet," it became that disappointing closet you look into and say, Ugh, I have nothing to wear.
Now, the bags will sit stuffed in cabinets under the kitchen sink and in fashion editors' desk drawers, because even if you wanted to throw them away, you couldn't. It just feels too wasteful to put that indestructible vinyl in the garbage. Somehow, I have two in my house right now, and the last time I shopped at Scoop, Frank Ocean had recently dropped an album.
So they'll continue to make appearances, maybe one day reaching vintage-cool status as an artifact of the early aughts, like the Calvin Klein logo tees and underwear that have come to define the '90s. This might even be happening already; last week I saw someone carrying a matte black one on the L train.

At the Meatpacking District store on Scoop's last Sunday in existence, the back shelves were lined with HP printer ink and paper clips. By the door there was a basket piled up with Scoop-brand maroon tanks, only larges left. It was desolate. I tried on a white Alexander Wang tank marked down from $90 to $15. The bottom was streaked in black schmutz.
But behind the cash rack, among the only items protected by glass were the bags, in shiny salmon, baby blue, and matte gray. Next to them were signs: "Collectors Item! WOW" and "Hot Buy!" They were only $2 and the shop clerk told me people were actually buying them.
For the first time ever, Scoop was selling the bag. By now, though, they'd make more money doing that on eBay.