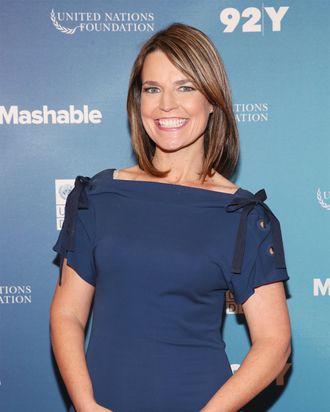 Savannah Guthrie.
Photo: Mireya Acierto/Getty Images
This morning on the Today show, co-anchor Savannah Guthrie announced that she's expecting her second child and that she will not travel to Rio to cover the Olympics for NBC. Brazil is the epicenter of an outbreak of the Zika virus, which is a cause of birth defects and other neurological problems.
NBCUniversal told its employees that they can opt out of traveling to Brazil if they're not comfortable going; they usually send about 3,000 people to the Games, and thus far only a "handful" have declined, according to The Hollywood Reporter. It was the same deal for the 2014 Olympics in Sochi: People concerned about security or terrorism weren't required to go.
Last week, U.S. cyclist Tejay van Garderen became the first athlete to pull out of consideration for the Olympics because of Zika. His wife is pregnant.
Guthrie said this morning: "I'm not going to be able to go to Rio, so you'll have to go to beach volleyball without me. I'm looking forward to the campaign season." She sounds beyond thrilled about that last bit.