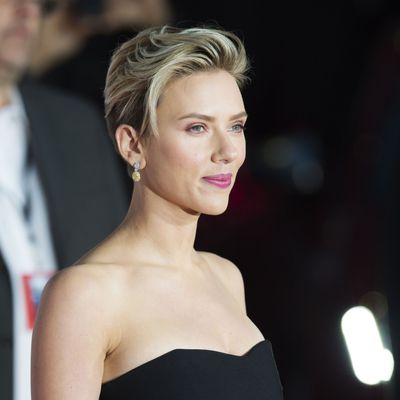 Photo: Robyn Beck/AFP/Getty Images
Scarlett Johansson is officially the highest grossing actress of all time.
According to Box Office Mojo, the actress is now tenth on the list of Hollywood's top-grossing film stars, with a domestic box office revenue of $3.3 billion across her entire filmography. She trails behind a bunch of much older men like Harrison Ford, Samuel L. Jackson and Morgan Freeman (at 31, she's also by far the list's youngest member). Glass ceiling, consider yourself lightly scratched!
It's unclear whether Johansson is the first woman to have made the top-ten list, because the site doesn't share comparison data for other years. Her closest competitor is Cameron Diaz, at no. 19.
So, what does this tell us? Not much that we didn't already know. It tells us that women make less than men (yep!). It tells us that, along with her flourishing indie career, Johansson knows how to pick projects that make money (big-budget ensemble flicks like Avengers and The Jungle Book account for much of her total). And it tells us that the best way to make money in Hollywood is still to hitch your wagon to a major action franchise, preferably one that involves avenging.
Maybe by the time Marvel finally gives us that long-awaited Black Widow movie, the list will be more diverse. In the meantime: keep climbing, ScarJo!