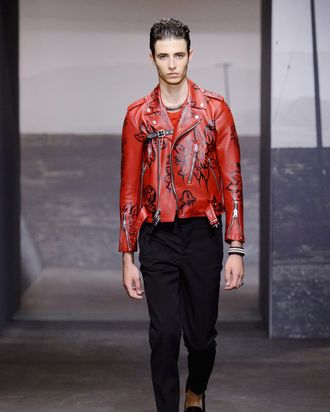 Photo: Imaxtree/Alessandro Lucioni
Where else but in London can you see models wearing both harnesses and sweaters as hats? The city known for pumping out the world's leading streetwear trends hosted the menswear shows over the past few days, and they were predictably eccentric.
At KTZ on Sunday, metal harnesses were layered over sparkly mesh tank tops and celestial-themed cloaks were layered over bare skin. At Topman, models were made up to look sunburned, in playful satin dress shirts and wool shorts detailed with sequined ice-cream cones and dolphin embroidery. The shows wrapped up yesterday with graphic leather printed jackets at Coach.
See all the galleries here, and check back on Friday for updates from Milan.