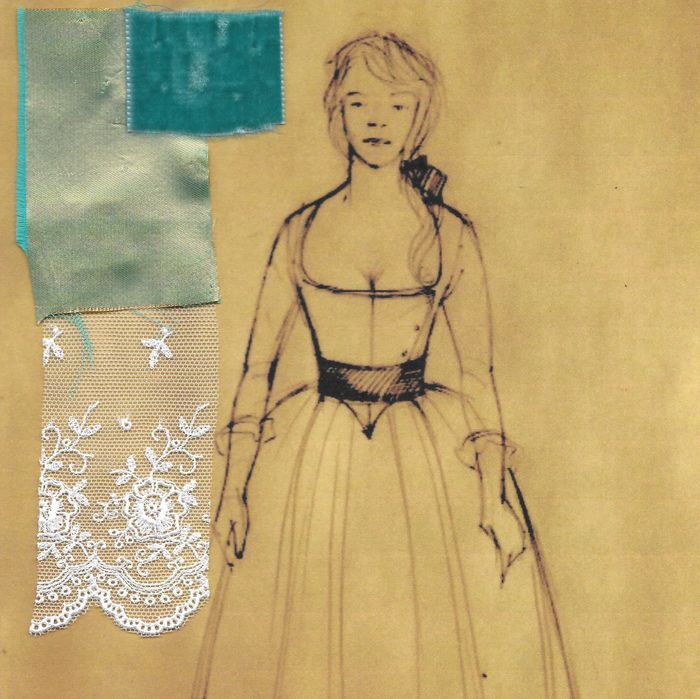 Eliza Schuyler Hamilton.
Photo: Paul Tazewell
This is a bit of a full-circle moment for costume designer Paul Tazewell: He began his Broadway career with one of the revolutionary musicals of its time, Bring in 'da Noise, Bring in 'da Funk, and now, 20 years later, he's again designing for a game-changing show, Hamilton. "It feels like the culmination of everything coming together," Tazewell says. And while Tazewell has worked on his share of hip-hop musicals (besides the aforementioned two, he designed for Lin-Manuel Miranda's In the Heights) he was excited to embrace period design for Hamilton. "I love re-creating as a means of storytelling," he says. "It's like a fantasy — putting your mark on how a period is emulated. It's just, how do you use it in a smart way to tell a story happening in front of you?"
Though Tazewell was attached to Hamilton from its earliest readings, it wasn't until the show set up shop in the Public Theater that he found his design direction. "The Public has a huge stash of period costumes, so we said, 'Let's see if we can get a look that feels somewhat 18th century, and what will that feel like to have the whole cast in that silhouette all the way through," he recalls. It quickly became clear that the visual neutrality of unfussy period looks would allow the audience to focus on character, not corsets. "It's the ghost of the period that wafts through," Tazewell says. "You're aware of a modern essence and a period essence operating together."
That blend permeates Hamilton, from the so-called "parchment looks" that begin and end the show (a parallel to Hamilton as insatiable writer, confronting the blank page, and also "the blank page of who these characters are"), to the female characters' differing necklines (Eliza's dresses have wide, open necklines, reflecting her open heart; Maria Reynolds's low-cut dress is, well, all about cleavage), to subtle contemporary touches in the uniforms the male and female ensemble members wear (corsets and form-fitting leggings for the women; bare arms for the men).
Tazewell has received his sixth Tony nomination for his Hamilton designs (he's already a recipient of several other theater world accolades, including a Princess Grace Foundation statue); prior to this weekend's Tony Awards, he shared his costume sketches and spoke about his designs for Hamilton's principal characters.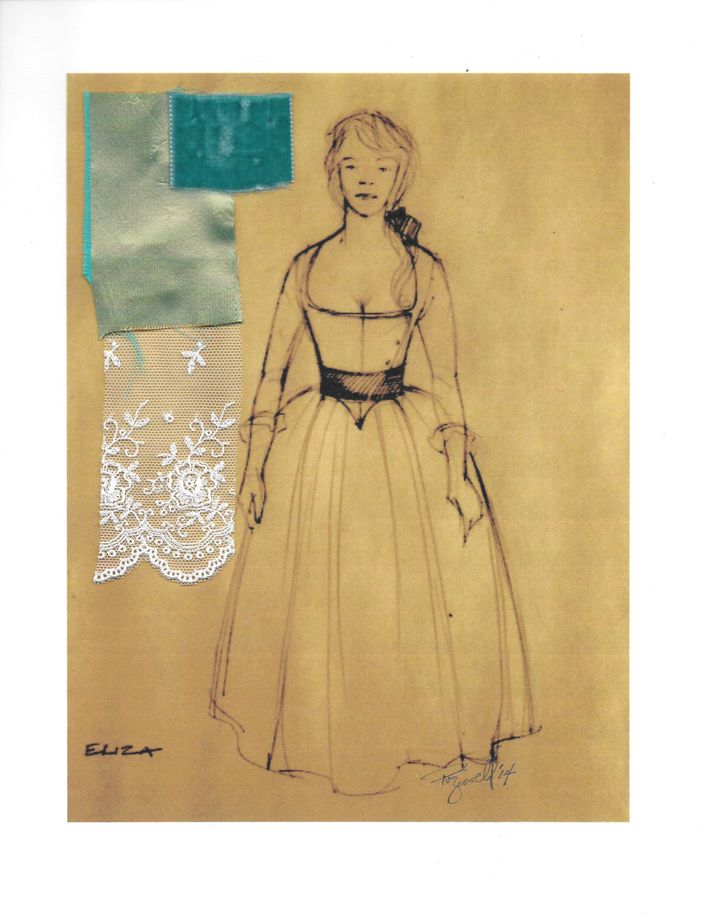 Eliza Schuyler-Hamilton.
The pure-hearted Eliza appears mostly in cool blue tones, "because I find light blue a very sympathetic color," Tazewell explains. "It's true — like true blue." He also liked the way the color pierced through the reds and browns of the set. "Eliza stays very clean, and I like how that plays off everybody else."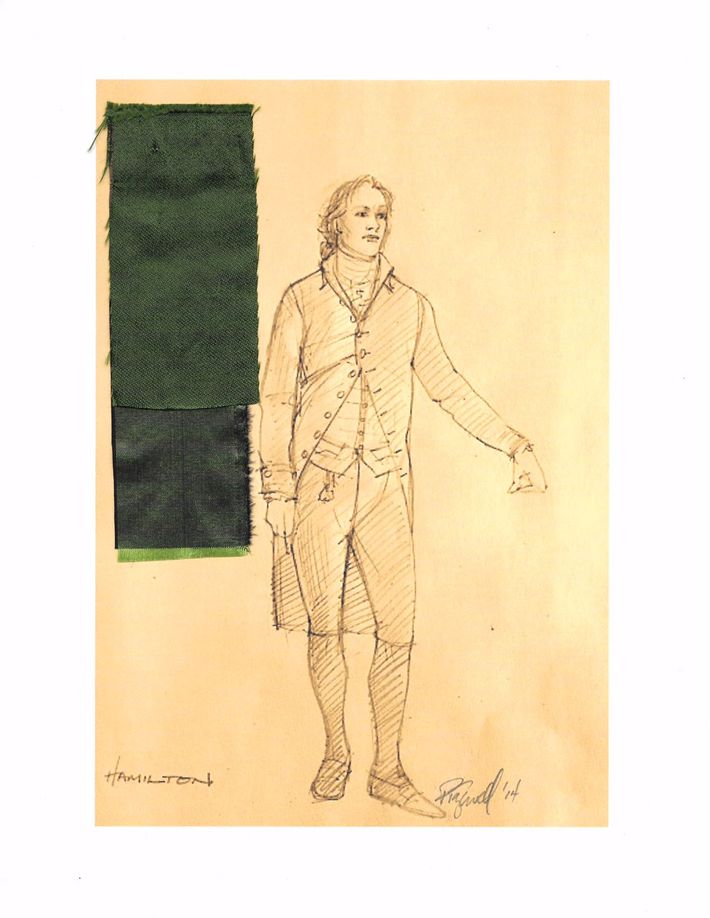 Alexander Hamilton.
"Lin's main thing was that Hamilton at some point be represented in green, the color of money," Tazewell says. "Other than that, he left it up to me and Tommy [Kail] and the rest of the collaborators as to what we saw visually." Perhaps more than any other character, Hamilton's costumes reflect his economic ascendency: When he first appears, fresh off the boat, he's in distressed brown suede; "you get the sense that he's scrappy."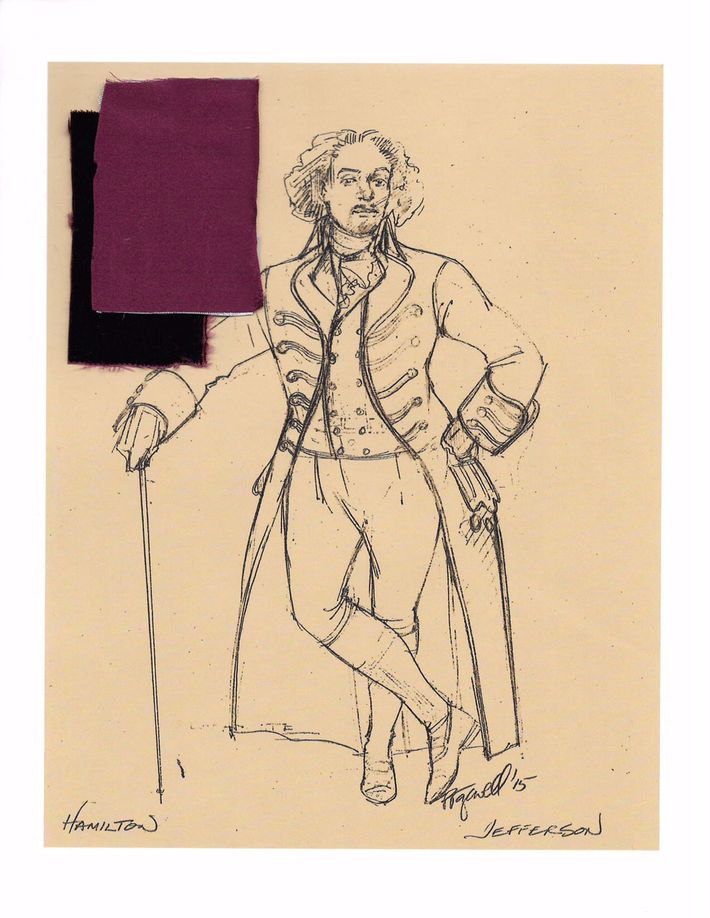 Thomas Jefferson.
Jefferson's costume changed the most. Tazewell originally conceived of a medium-to-dark-brown palette, "because of his connection to the earth: He was a farmer and he seemed very grounded to his plantation." But once Tazewell saw Daveed Diggs's electric performance, he and Kail shifted their thinking. "We decided he needed to feel like more of a rock star," Tazewell says. "Some of it was inspired by Daveed's hair, too. It's a bit like Jimi Hendrix or Prince, so we thought, let's put him in purple and see how that projects."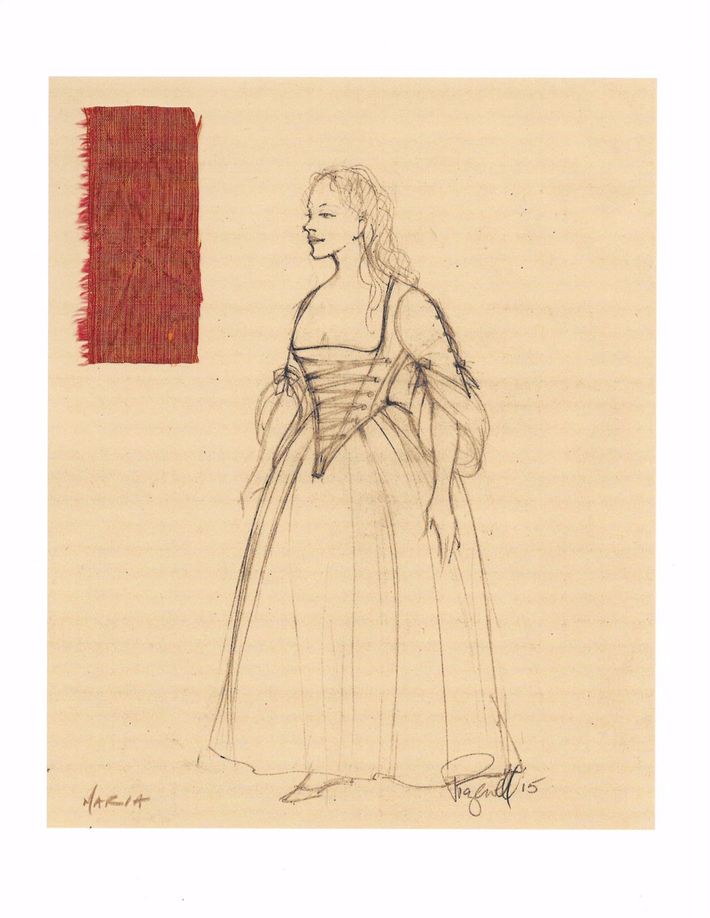 Maria Reynolds.
"It was about trying to arrive at a classic hussy feel," Tazewell says with a laugh of Maria Reynolds's red. "You're always comparing the silhouette from character to character. When you compare Eliza to Maria, there's more texture in Maria, more forward color — all that is sexy and that Hamilton would be drawn to that contrasts with his wife."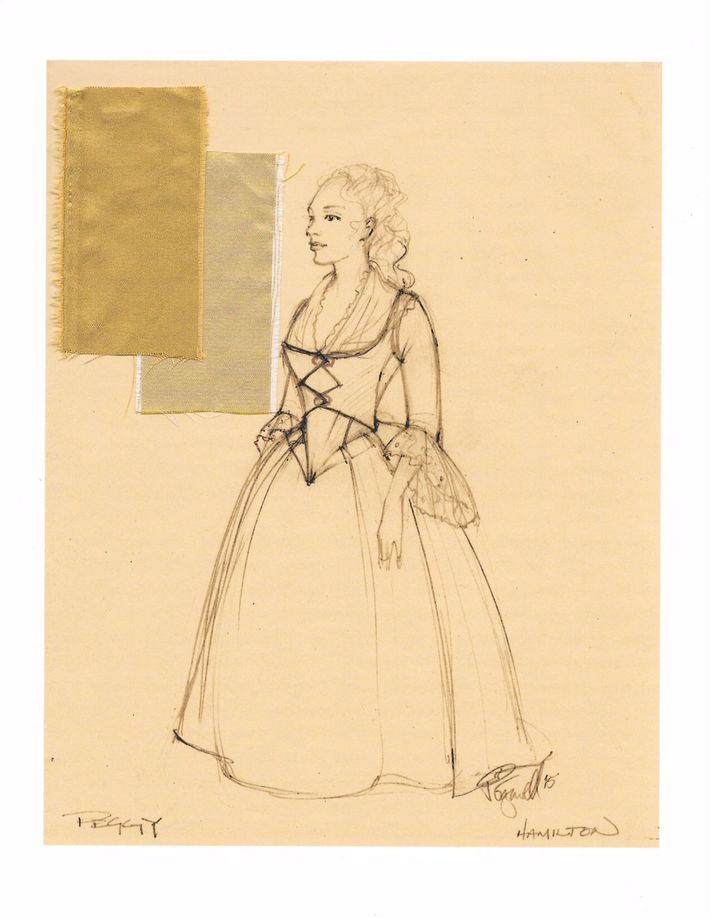 Peggy Schuyler.
For the tertiary Schuyler sister, "It's just like, Well, okay, let's make her yellow and see how it works," Tazewell says with a laugh. "She's youthful, and I'm not a big fan of baby-pink."