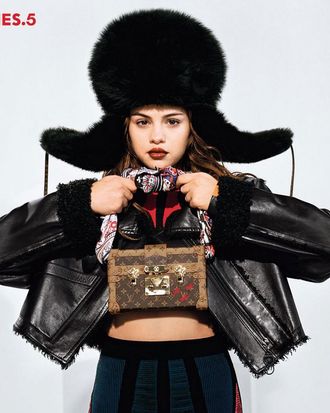 Selena Gomez in the new Louis Vuitton campaign.
Photo: nicolasghesquiere/Instagram
At 84.6 million Instagram followers and counting, Selena Gomez is the ruling queen of the platform. And today, she shared some images of her new, Bruce Weber–lensed Louis Vuitton campaign with her hordes of followers. Gomez has had an informal relationship with the brand for some time, having attended several shows and worn Nicolas Ghesquière's designs to the Met Ball, but this marks her debut as LV's face.
In one of the shots, she shows off what an E! red carpet critic might deem "a lot of look," including a Brobdingnagian fur-trapper hat, crop top, shearling jacket, and logo bag wrapped in a scarf. In another, she's seen about to board a private plane. Modeling range: Selena has it!