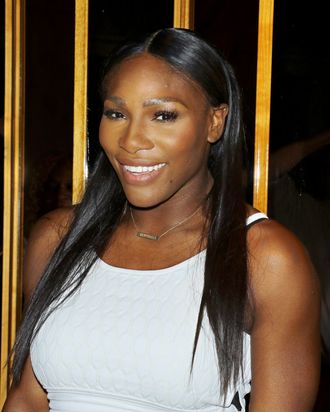 Serena Williams at the Epix New York Premiere of Serena.
Photo: Jim Spellman/2016 Jim Spellman
Last night, Serena Williams walked the red carpet at the screening of the documentary Serena, hosted by Epix and the Cinema Society, and told us about her everyday life beyond being a fierce competitor on the court.
"Every day, every morning I wake up, and I am supposed to win," the self-proclaimed "ultimate perfectionist" told Gayle King during a Q&A conversation after the screening. "Every single match, every single day for the rest of my life. I don't know anyone, very few people in sports who have had that. I've been going through this journey of trying to embrace that and trying to take all that on and still be positive about it."
Herewith, the five most interesting things we learned about Serena Williams:
She'll show faux fur at Fashion Week. "I just had a meeting yesterday, three hours. We're working on the fabrics," Williams told the Cut about her clothing line at HSN. "We're having a lot of faux furs, faux things like that. This year, everything on the runway — the second we're done — will be available to buy. It's a lot of work, it's never been done before, but it's something we want to do."
And since she was in Beyoncé's "Lemonade" video, will we see Queen Bey anytime soon on Williams' runway? "Probably not, but that would be amazing! Could you imagine?" YES.
She loves Chick-fil-A. Like, really loves it. The 21-time Grand Slam champion confessed in the documentary that after having gained a few pounds, she planned on "cutting back" to only three Chick-fil-As a week.
Her pre-game ritual is fueled by Irene Cara and Housewives. Have you ever spotted Williams in the tunnel before a match wearing headphones, wondering what tunes she's rocking out to? "It's '80s music," she says. "I listen to Irene Cara, 'Fame.' If you go home and actually listen to those words, you'll understand why I listen to it." And she's a big fan of watching The Real Housewives, preferably Atlanta.
She doesn't regret run-ins with refs. "I don't regret those moments because life is about a learning experience, and if you go around dreading things you can learn from — 'if I can change one thing, it would be this.' No, I've learned so much from every experience, whether it was good or it was bad. It builds character. Life is a journey."
Being pissed off fires her up. "I posted something a few days ago, really open and really candid and I said simply, I was pissed. After Australia I was sad and hurt and after the French I was more pissed." So angry, in fact that she left all of her rackets in France.
After a deep conversation with her coach, she felt totally different. "So much stronger and so different, and I haven't felt like that in a really long time. I'm really excited for what's happening. I feel more than ready. I feel super strong, and I feel super confident. … I'm sitting next to Anna Wintour right now. I just told her, I wish Wimbledon was tomorrow, I'm so ready to play!"
Serena premieres on Epix on June 22.