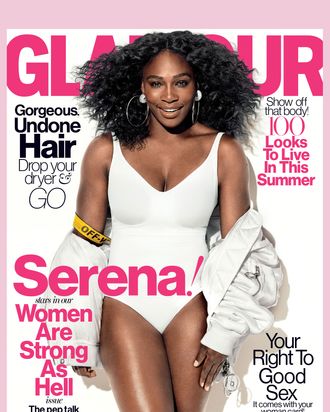 Serena Williams.
Photo: Norman Jean Roy/Glamour
Serena Williams is the latest cover star of Glamour, with an accompanying interview with Melissa Harris-Perry. In it, Harris-Perry asks the tennis pro what her response is to all this conversation around women in sports getting equal pay. "The U.S. women's soccer team has been challenging inequity in women's sports, fighting for equal pay. It's an issue facing NCAA women in multiple fields [including tennis, where women make 80 cents for each dollar men earn]," she said. So what does the best tennis player in the game have to say about this?
These sports have a lot of work to do. And I really hope that I can be helpful in that journey because I do believe that women deserve the same pay. We work just as hard as men do. I've been working, playing tennis, since I was three years old. And to be paid less just because of my sex—it doesn't seem fair. Will I have to explain to my daughter that her brother is gonna make more money doing the exact same job because he's a man? If they both played sports since they were three years old, they both worked just as hard, but because he's a boy, they're gonna give him more money? Like, how am I gonna explain that to her? In tennis we've had great pioneers that paved the way—including Venus, who fought so hard for Wimbledon to pay women the same prize money they pay men, and Billie Jean King, who is one of the main reasons Title IX exists.
Like music to our ears, really.