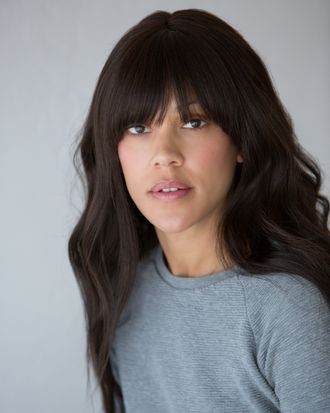 Shani Darden actually believes in skincare minimalism.
Photo: Courtesy of Shani Darden
Shani Darden might be the only celebrity facialist who got her start dancing in a Destiny's Child video. Her career in music videos didn't last — "I actually can't even dance," she says — but she went on to become one of L.A.'s most famous aestheticians, with clients like Jessica Alba, Rosie Huntington-Whiteley, and Chrissy Teigen visiting the private facial spa that she operates out of her home in the Hollywood Hills.
As Alba herself once said, "You know how sometimes when you get facials, you, like, look a little busted after? Go to Shani; you look better." The Cut talked to Darden about how she transitioned from music-video fame to skin-care fame, why she thinks everyone should be on a retinol, and why she believes in skin-care minimalism.
How did you start your career?
I was working in New York. I originally came to be an actress, then ended up modeling and being in music videos. That wasn't my plan. Being in music videos is wonderful, it just wasn't what I wanted to do. After a couple of glasses of wine, I love to tell people that I had a role in LL Cool J's "Phenomenon" video. I was also in the original "No No No" video with Destiny's Child. Before the Wyclef remix, there was a slow version. No one has ever seen it, probably, except for me. I jokingly tell people I was in the very first Beyoncé video ever.
After doing that for a while, I decided I really wanted to get into skin and skin care, because I've always been obsessed. I went to school first for massage. After that, I went to school to become an aesthetician. I was able to get a job at a couple bigger spas like Kinara, as a receptionist. The girls at that time were so great and had all worked at dermatologist offices. I was able to watch them and get a lot of training.
When I got my aesthetician license, one of the girls sent me to a dermatologist. It's really hard to work at a dermatologist office straight out of school, but I did it at Dr. Erma Benitez's office. Then, after bouncing around a few places, I opened my own place.
You say you've always been obsessed with skin care. What do you mean by that?
I was such a crazy person when I was young. I started making masks when I was little. I wanted to go to the dermatologist at even 8 years old — I don't even know for what. I'm from such a small town that we had to go to a dermatologist an hour away — there wasn't one in my town. I was really obsessed with it. When I went on Retin-A, I didn't ever have acne. I had a lot of problems with rashes.
I'm still really crazy. I won't go in the sun. I'm going away this weekend and I'll be fully covered wearing a hat and not even in a bathing suit. Sunscreen, sunscreen, and more sunscreen. I love Control Corrective Oil Free SPF 30.
You have a big celebrity following. How did that start?
I imagine it was all from Jessica [Alba]. She just came into our spa. I saw her once. We became friends. She really took me under her wing. The first mention was in Allure, and then from there, on Twitter. Then a makeup artist would send me someone and I'd fix that person's skin, and that's really how it started.
How would you describe your skin philosophy?
Definitely less is more. I don't think you need a million products. I'm pretty straightforward.
So you aren't doing these multi-step beauty routines that everyone is doing. What are your thoughts on filler and Botox?
If people are into it, I'm all for it. I keep it simple, yet effective. You just need to make sure you're using the correct products for your skin type.
I just think, again, less is more. I have so many people in their 20s who come to see me and are like, I think it's time to get it on my forehead.  It's too soon. I'm old and I have tried it before. It's not for me — I felt like it totally changed the look of my face! I hated it.
In your mind, what does an ideal skin routine consist of?
Cleansing in the morning, using an antioxidant, and sunscreen. I suggest using a gentle cleanser, but a real one. I like using a foaming cleanser, but one that doesn't foam too much. Usually, one that foams too much will dry you out.
You need an antioxidant because they help protect you from the sun and pollutants. That protection is anti-aging. I like vitamin C, although some people can get irritated by it — it helps treat dark-brown sun spots and sun damage. I love iS Clinical, all of their serums in the day. The Super serum and Pro Healer are my favorite.
At night, using a cleanser, a retinol if your skin can handle it, moisturizer, and an eye cream. If your skin can't handle a retinol, then some type of anti-aging serum. Retinol helps boost collagen in the skin. It helps with discoloration and acne. I personally think everyone should be on retinol if they can handle it. It's such a difference when I see clients that have been using retinol since their early 20s. It really is one of the best ingredients to slow down the signs of aging. It can totally turn your skin around. I see a lot of women in their 50s or even older who have been using Retin-A forever. They weren't using it on their neck or chest, and their faces and that area are like two different ages. I created my Retinol Reform cream to have a strong retinol with a moisturizing base so you don't get the dry, flaky skin that sometimes happens with others.
I've been using one since 23. I'm 41. I probably have some good genetics but I would say, for sure, if I had not been using retinol, my skin would be really different.
Some Retin-A critics say it thins out your skin. What are your thoughts on that?
Over time, it can thin your skin. And this is going to sound crazy, but I don't know why that would matter if you had had perfect skin. It's thinner, but it's also perfect. It does make it harder for an aesthetician to do extractions. But by the time their skin is thin, it's perfect and doesn't even need extractions. There are worse problems to have.
A lot of celebrities credit you with "saving" their skin. How do you do it?
I don't know! I just get it. Working with the dermatologist helped me a lot. A lot of aestheticians like to bring in new products and change things. I found that I rarely changed things up. I figure out what works and stick with it. I truly believe everyone can have good skin.
This interview has been condensed and edited.