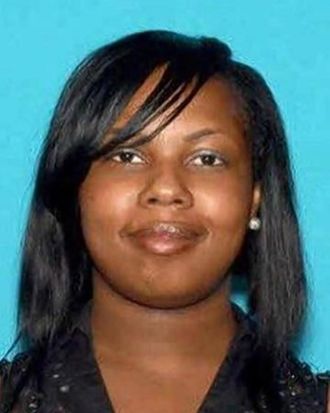 Shanika S. Minor allegedly killed a pregnant woman in Milwaukee.
Photo: Milwaukee Police Department
The FBI named a Milwaukee woman one of its ten most-wanted fugitives on Tuesday, making 24-year-old Shanika S. Minor the tenth woman ever to appear on the list and the only woman currently on it. She allegedly killed a pregnant woman and her unborn child, fled the scene, and has been on the run since March. The FBI is offering a $100,000 reward for information leading to her capture.
In March, Minor allegedly started an argument with Tamecca Perry, a 23-year-old pregnant neighbor living in her mom's Milwaukee duplex. (Her baby girl was due within the week.) On the sidewalk outside Perry's apartment, Minor waved a handgun at Perry and challenged her to fight. But Minor's mother intervened, and Minor wound up firing her gun into the sky before driving away. Before 3 a.m. the next morning, though, she returned, and while Minor's mother again tried to stop her daughter from harming Perry, witnesses saw Minor reach over her mom's shoulder and shoot Perry in the chest. Perry then withdrew to her apartment and died in front of her two children.
Minor fled the scene and hasn't been seen since then; she reportedly told people she wouldn't turn herself in. Police issued an arrest warrant  charging Minor with two counts of first-degree intentional homicide (one for Perry, and one for her baby).
The FBI believes Minor has contacts in Missouri, Mississippi, Texas, Tennessee, Ohio, and Georgia. She worked delivering newspapers but doesn't appear to have "any reliable employment," special agent Chad Piontek said in an FBI statement. He explained a "network of friends" or family members could be helping her. "I don't think she has a lot of resources on her own. Clearly, people have assisted her."
Described as five feet, six inches inches tall and of medium build, Minor reportedly could be using the name Ida Jackson as an alias; she also has a tattoo of roses on her lower abdomen. The FBI said she "should be considered armed and extremely dangerous." (Information and tips regarding Minor can be submitted online or by calling the FBI's Milwaukee Division at 414-276-4684.)
Of 509 fugitives who have appeared on the FBI's Most Wanted list since its creation in 1950, only ten have been women. The first was Ruth Eisemann-Schier, who kidnapped the daughter of a wealthy real-estate developer for ransom in Atlanta in 1968. She and an accomplice, Gary Steven Krist, abducted 20-year-old Barbara Mackle and buried her in a coffin rigged with ventilation tubes, a fan, and food. The woman was found alive and Eisemann-Schier and Krist were captured.