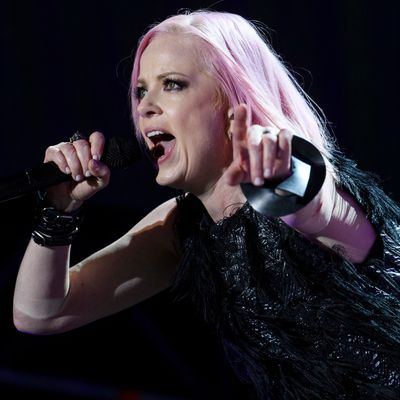 She's no stupid girl.
Photo: Juan Aguado/Redferns
Shirley Manson's hair is pink, but the natural-born ginger is still all fired up.
One thing Manson is refreshingly open about is the pressure of aging in the public eye. During an interview with The Daily Beast about Garbage's new album, Strange Little Birds, Manson cites badasses Patti Smith, Marianne Faithfull, Chrissie Hynde, and the late Surrealist artist Louise Bourgeois as inspirations. "I saw this work by this woman [Bourgeois] who at the time was 93 years old and still working and holding artistic salons at her apartment in New York. She was this wrinkled, wizened old lady and I thought, 'I can do that. I can keep making music until I'm dead, and who's to tell me otherwise?'"
At the same time, it's hard to ignore ageism in your face. Madonna is the perfect example of someone whose superstar status has been superseded by a tragic inability to stop time and aging.
"People are almost disappointed that she's aged; she got caught being a human being," Manson said. "It has a lot to do with society's expectations of women and also highlights the inequality between male and female artists to this day. There are very few women willing to fight against the idea that beauty is the highest currency. That's the problem: that women are scared to fight against that currency, to fight against that idea of, 'Does a woman have any worth past youth and beauty?' I believe they do, and I will fight that idea until I die, but I think a lot of women feel they have to give up.
"I had that moment myself, where I felt 'I'm done' and that nobody was gonna give me a chance, but then I realized that you can use your brain and use your songwriting and be a good communicator and connect with people, and that's your fuckin' job at the end of the day — not to be beautiful, or pretty, or have people want to fuck you. Who cares?"
Spoken like a true man-repeller.