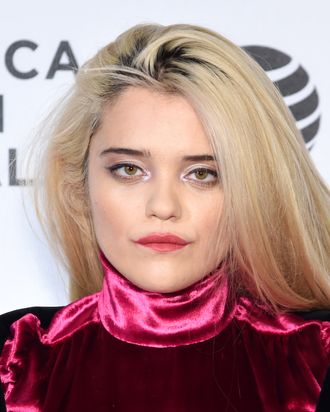 Sky Ferreira.
Photo: Jamie McCarthy/Getty Images
Last week, L.A. Weekly published an article about Sky Ferreira called "Sky Ferreira's Sex Appeal Is What Pop Music Needs Right Now." The article, which was resolutely condemned as sexist, made the ever-so-enlightened argument that Ferreira's "sex appeal" should be credited as crucial to her musical success. It included language, among many other examples, that compared Ferreira to "a more cherubic Sharon Stone, icy but also sweet, like a freshly licked lollipop."
In the criticism-filled aftermath, L.A. Weekly's music editor issued an apology, and now Ferreira is commenting on what she sees as the routine sexism of the piece. In a string of tweets on Monday, the singer said: "95 percent of articles & interviews about me have had something offensive, false or (sometimes extremely) sexist. Some have been more passive aggressive or subtle & socially acceptable. I'm obviously a lot more than my 'sex appeal' or my 'knockers,'" adding, "I'm not ashamed of either of those things either." Ferreira described herself as "frustrated" by the incident, which she says "really took a toll on me in a personal level." She also denied that the credit for her musical success should go anywhere other than her artistry, proclaiming: "I'm not a think piece. I'm not a fucking example … The reason good or bad & who I am or whatever I've done is ME."
Having experienced a career of similarly sexist slights, Ferreira admits to feeling like "I've always been 'too much' or 'never enough.'" Instead of giving "validation" to the sexist noise, she said, now "I care about the work I make because that's what actually lasts & matters." Read Ferreira's full comments below.