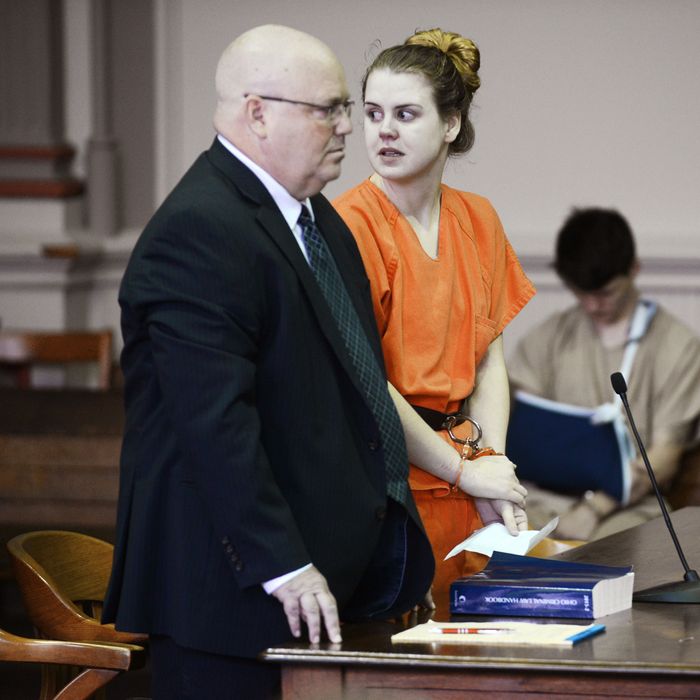 Emile Weaver suffocated her newborn in a trash bag.
Photo: Chris Crook/AP
A former Ohio college student was sentenced to life in prison on Monday for suffocating a baby she had in the bathroom of her sorority house. She put the baby girl in a trash bag and threw the body in a garbage can outside. Her sorority sisters discovered the infant.
Twenty-one-year-old Emile Weaver was a Delta Gamma Theta at Muskingum University, one of five sororities at the school's New Concord, Ohio, campus located east of Columbus. She allegedly hid the pregnancy for nine months, despite rumors about it among her sorority sisters, and repeatedly tried to kill the baby by drinking alcohol, smoking marijuana, playing sports, and binging on labor-inducing pills. On April 22, 2015, she gave birth to a baby girl in the toilet of a half-bathroom at the stone sorority house.
One of Weaver's sorority sisters apparently heard the baby's cries early that morning in the dark house while walking down the stairs: "It sounded like a dying cat," she said. "Then three or four cries … each about three seconds." She thought it was someone talking on the phone. Weaver put the newborn on the floor, tried to clean up the bathroom, and went to the kitchen for a knife to cut the umbilical cord. When she returned, the baby wasn't moving much or breathing. She put the infant and placenta in a plastic bag and threw it in a trash can outside. The baby suffocated to death.
Weaver apparently left the bathroom with blood splattered all over the toilet. Thinking it was from a girl's period, the sorority house manager texted everyone in the house, asking whoever made the mess to come forward and clean it up: "It looks like a murder scene," she wrote.
Four Deltas went out for ice cream that night and discussed the rumors surrounding Weaver (weight gain, recent weird behavior), and two of them decided to check the sorority's garbage bin. They found a heavy plastic bag, tore a hole, and shook it. A baby's foot appeared. Horrified, they went back inside to tell their friends; one girl went back outside to check — she opened the bag and saw the baby's dark hair and blue eyes. The four women called the school's director of Greek Affairs, who called the police.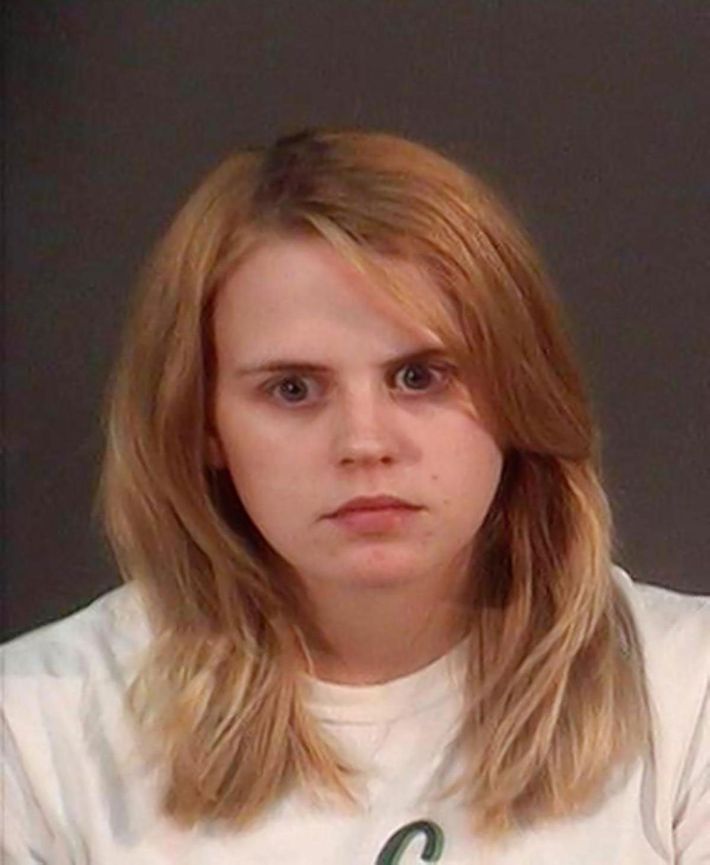 Weaver reportedly seemed nonchalant about being questioned by investigators. She claimed she hadn't known for sure if she was pregnant because she didn't have the typical symptoms (nausea, stretch marks, or cravings). She didn't think she gained much weight. The baby was born alive, Weaver said, but when she stopped moving she decided to throw her away. She didn't call 911 because "I thought the baby was gone."
After the baby's birth, she reportedly texted a man whom she thought was the father (though DNA tests would later disprove that): "No more baby," she wrote. "Taken care of." "I would like to know how you killed my kid," he demanded, among other questions. She explained the baby died in labor from "placenta complications."
Following an autopsy, the baby's body was returned to Weaver's family for burial; she named her Addison Grace Weaver. Police charged her with murdering the child three months after the birth. This past May, about a year after the baby's death, an Ohio jury found 21-year-old Weaver guilty of aggravated murder, abuse of a corpse, and tampering with evidence. She appeared in court on Monday for her sentence.
"I stand before you a broken-down woman, asking for forgiveness and mercy," she said, crying. "Words cannot express how sorry I am to my beautiful daughter Addison." In a letter to Judge Mark Fleegle, she said she hadn't fully understood what she'd done until the baby's funeral, as she stared at her daughter's body in a tiny casket.
Unaffected, Judge Fleegle said he wasn't sure she was truly sorry. "In those four paragraphs, you mention 'I' 15 times," he said. "Once again, it's all about you." He cited the multiple times she tried to kill the baby by taking alcohol, drugs, and 80 labor-inducing black cohosh pills in the 16 days leading up to the birth. Her text to the assumed father, in which she claimed the baby was "taken care of," was "probably the most truthful statement you made that day," Judge Fleegle said. "It was an inconvenience, and you took care of it." He sentenced her to life in prison without parole. Weaver plans to appeal the conviction.
The county prosecutor previously explained the entire crime could have been prevented if Weaver had known about Ohio's Safe Haven Law: During the first 30 days of a baby's life, a parent is allowed to leave a newborn with a hospital, fire department, emergency-service organization, or law-enforcement agency without being punished.