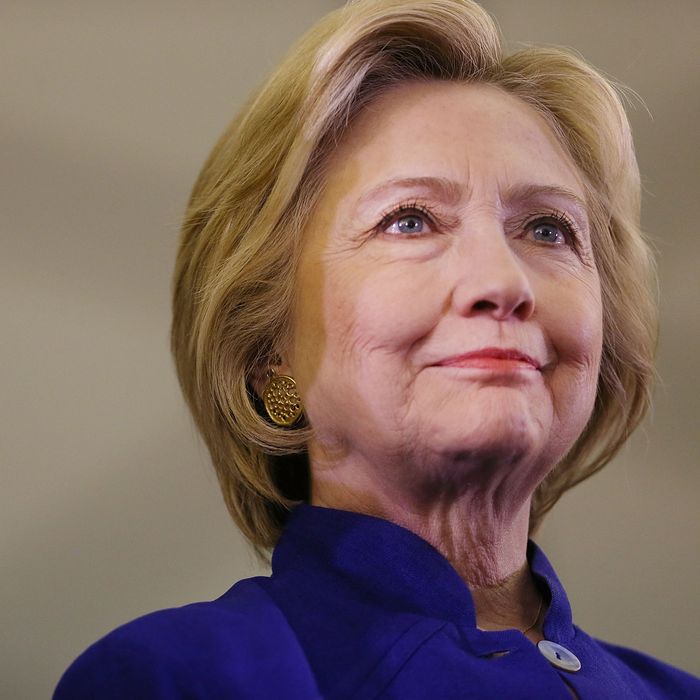 Photo: Spencer Platt/Getty Images
Hillary Clinton hasn't held a press conference in 180 days. That fact hasn't been lost on reporters who cover her, nor has it escaped the notice of her Republican opponent. "I am getting great credit for my press conference today," Trump tweeted, referring to the Trump Tower fiasco on Tuesday in which he scolded reporters for doing their jobs. "Crooked Hillary should be admonished for not having a press conference in 179 days." Likewise, political reporters have hinted that they'd really, really like Clinton to hold a press conference of her own, if only to counterbalance Trump's.
As The Hill points out, Clinton held a string of press conferences on the campaign trail before December, but those appearances gradually tapered off. One Clinton ally who elected to remain anonymous told The Hill that, were Clinton to hold a press conferences, the media wouldn't treat her fairly: "There's no benefit," the ally said. "It will only hurt her." This is a common — and valid — thread among Clinton supporters.
Of course, her lack of availability is frustrating to the journalists tasked with covering her, even as many seem aware of its logic. "Those of us who cover the Hillary Clinton campaign would love to have a press conference, even if she insulted us," said Nancy Cordes, a CBS reporter. "She hasn't done one for months and months. She's just not comfortable in that setting."
Cordes specifically mentioned the State Department's report that came out last week that found Clinton's use of a private email server violated federal standards. "There were lots of us on the campaign trail who were dying to ask her questions about it, and she avoided all of us," Cordes said. "She did a couple of quick call-ins to some cable shows, but that was it. She's just not interested in getting the kinds of tough questions out there on the trail."
Of course, a lack of press conferences doesn't equal a lack of transparency: She's given more than 300 interviews in 2016, including speeches before and after primaries and caucuses, town halls, and appearances on NBC's The Ellen DeGeneres Show and Jimmy Kimmel Live!. But Clinton knows she has a much better chance of controlling the situation if she can field questions during, say, a nationally televised town hall instead of a no-holds-barred press scrum.
She is, in other words, playing to her strengths as much as Trump plays to his with sensational supersize rallies and press conferences on his home turf. Ed Rendell, the former governor of Pennsylvania, told New York's Rebecca Traister that Clinton ought to design the presidency around what she does best:
"The president gets to select the mode of communicating," he said. "The president can go out and make speeches in front of large audiences, or the president can make the speech sitting behind the desk talking to a TV camera. The president can do sit-down interviews. If I were Hillary's chief of staff, I'd get her on as many of those interview shows as I could and just get her talking and not reading a speech. I'd have her do town meetings all through her presidency. Have you seen her in small town halls? Hillary is not a great large-crowd speaker, but in those contexts, I would rate her as close to spectacular."
Does she owe it to voters to give a press conference at some point soon? Yes. But it's probably not a political mistake to give fewer than Trump.
* This item has been substantially edited since its original publication.