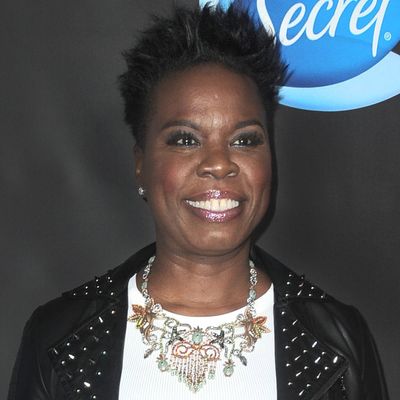 Photo: David Crotty/PatrickMcMullan.com
Yesterday, Leslie Jones took to Twitter to complain about how no designers seemed to want to dress her for the upcoming premiere of the new Ghostbusters movie. Now, some Hollywood stylists are placing the blame on Jones for not being a sample size.
On Pret-a-Reporter today, stylist Jessica Paster claims, "She should have known four to five months ago the date of premiere, and said, 'I'm not a sample size, I need to go to designers early or buy myself a dress.' Don't be blaming designers and saying they don't like you."
Another stylist, Jeanne Yang, says, "It's just pure economics. People have this belief that showrooms and designers have racks and racks of clothing in all sizes. They don't."
It's pretty condescending to assume Jones didn't think about what she wanted to wear in advance of the movie's July 9 red-carpet premiere, and even more so to think she simply doesn't understand how designer showrooms function. She's one of the stars of a highly anticipated commercial movie! She should be able to have her pick of gowns.
Thankfully, Christian Siriano, who is known for dressing many non-sample-size stars, stepped up to the plate and has offered to create a custom dress for Jones. Ideally, she'll show up to the premiere looking fantastic and offering a "big mistake. Huge!" to all designers who didn't want to dress her.