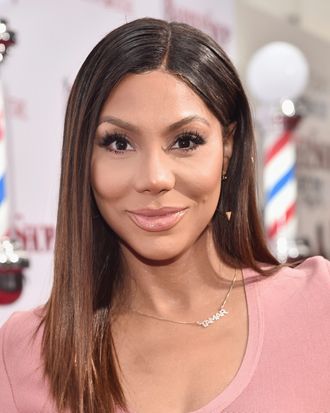 Tamar Braxton
Photo: Alberto E. Rodriguez/Getty Images
Tamar Braxton has had a year. Her stint on Dancing With the Stars was cut short in the wake of a blood clot diagnosis, only to be followed by her abrupt departure from her talk-show hosting gig at The Real. But before the latter unfurled, the Braxton Family Values star spoke with the Cut about health and wellness. She discussed her intimate addiction to Shake Shack, the mesmerzing power of kelp noodles, and how a spinning class became a group activity with her co-hosts on The Real.
How I start my day: I get up at about 5 a.m. because I want to be in my spinning seat at 6 o'clock. The kind of spinning I do is like Bikram spinning; it's a hotbox and it completely changed my life. After I work out, I go to The Real. I take a shower, start my glam, and then I have a light breakfast. For breakfast I really like a juice from this place called Kreation in L.A. I like "Enlightened" — it's the most delicious beet juice I've ever had.
How I like to sweat: I've been doing the Bikram spinning class for maybe six months. I'm so addicted to it, and I've also gotten a lot of people from The Real to get up early and come. I spin three times a week, and the rest of the week I do Body Theory, which is basically Tae Bo. Do you remember Tae Bo? For me it makes my body go: Wow! Boom! Pow! It's the greatest ever.
It's never a problem driving to the gym, but the initial startup of working out is the hardest thing on the planet. It's like starting a diet every single day. It's the truth and the story of my life.
How I glam each day: I try to keep my glam under an hour. When someone's doing my makeup, someone is also doing my hair at the same time. I usually start out my day with a mask, so after I work out and take a shower, I'm sitting with my mask for twenty minutes. What I find is that my skin is a lot softer and it's not irritated from sweating and it holds my makeup longer. When I don't have the mask we use Skindinavia. It's like a mask in a spray bottle and you spray your face, sit for two minutes, and then put your makeup on. 
What wellness means to me: It means you're taking care of yourself. It doesn't matter what you have going on in your life. It doesn't matter what you've got going on — take the time to take care of your body. We only have the one body — you can't rent or buy another one and you definitely can't buy good health. What we put in our bodies is what we get out of it. You can't eat a bunch of junk and expect to be healthy, it doesn't work that way. 
How wellness has changed for me: When I got sick with a pulmonary embolism, which is a blood clots in my lungs, it meant that I really needed to take better care of myself. Does that mean that the things that I was doing weren't healthy? Did I get a blood clot because I wasn't eating healthy enough or not exercising enough? No. But it does meant that I need to pay attention my body and see how thick my blood is, if I need an aspirin every day, and so on.
My biggest wellness struggle is: I am the greediest person on the planet and am addicted to Shake Shack. You have to eat the things you love like the burgers and the cheese fries and the shakes, but in moderation. I can't starve myself or deprive myself of things that I really love. I love Shake Shack. I have Shake Shack T-shirts. Deciding between the chicken sandwich and the burger is like a lifelong decision. I never know which one to choose.
My wellness shortcut is: I started eating kelp noodles. That helps when you want spaghetti — the kelp noodles are low in fat and carbs and are delicious. When I got introduced to it I wasn't open to the idea. I was like: I don't want no kelp noodles, I want spaghetti, get your life. But when I tried it I fell in love. 
My wellness advice is: I got sick out of the blue. I've always been a really healthy person. Pay attention to your body because it talks to you. If you've had a headache for a week that's not normal. If your stomach hurts, if you're puffy, you need to go to the doctor and check it out. Nine times out of ten something is wrong  and it's something you can't diagnose and treat yourself with. You need to go and check out doctors, that's why they're there.
This interview has been edited and condensed.