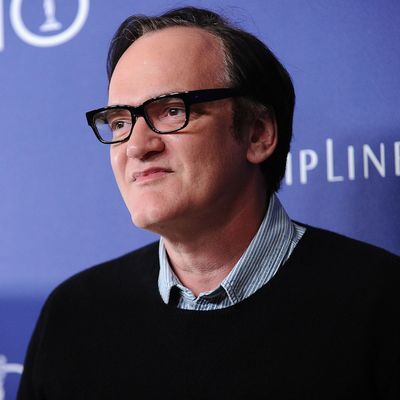 Quentin Tarantino.
Photo: Jason LaVeris/Getty Images
Your daily reminder that Hollywood is a terrible place to work: An L.A.-based casting agency recently published a bulletin to Facebook seeking "whores" for an upcoming film being produced by Quentin Tarantino.
"Casting Whores for Quentin Tarantino project," the since-removed notice read. "Caucasian, non-union females, ages 18–35. Western film shoots June 21st-25th in Los Angeles. No highlights, natural eyebrows, natural breasts, natural hair color to be true to the period. Dress sizes 2–8. Please send photo, including sizes."
Clarifying the language with the blog Women and Hollywood, who found the ad, the agency said that the word whores was pulled directly from the script, and that the film is written and directed by a woman.
Still, it's not a great look. "Putting a casting call out for, or including women in your script with the description of "whores," is not ok," wrote Women in Hollywood. "Nor is asking actresses to submit their photos and information for consideration with the subject line 'Whore.' Aside from the fact that there are better words to use if one is looking to cast women who work in the sex industry, this description is actually a typical example of Hollywood sexism, particularly as it pertains to roles for women."
While it would be nice not to have so many parts like these to begin with, there are also lots of less demeaning words the ad could have used: sex worker, brothel employee, even prostitute. But we get it, words can be tricky. Right, Morgan Freeman?