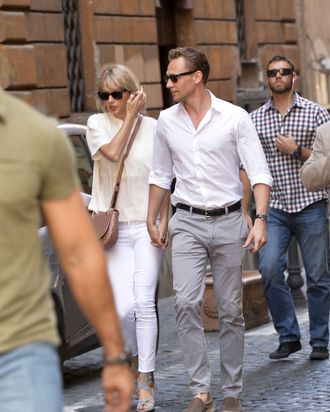 "Hiddleswift" outside the Vatican.
Photo: Agostino Fabio Splash News
Over the last two weeks, Taylor Swift and her new boyfriend, Tom Hiddleston, have kissed — on the mouth — in multiple locations: Rhode Island, Nashville, Los Angeles, the English countryside, and Rome. This morning, they went directly to the Vatican, presumably to repent.
A source tells People that Swift and Hiddleston "have fallen for each other very quickly. They're very close for people who have only been dating for a couple of weeks."
Though they have so far allowed themselves to be photographed together somewhere in the neighborhood of 1 million times, neither Swift nor Hiddleston has publicly commented on the relationship. It is, as it should be, between them and God.