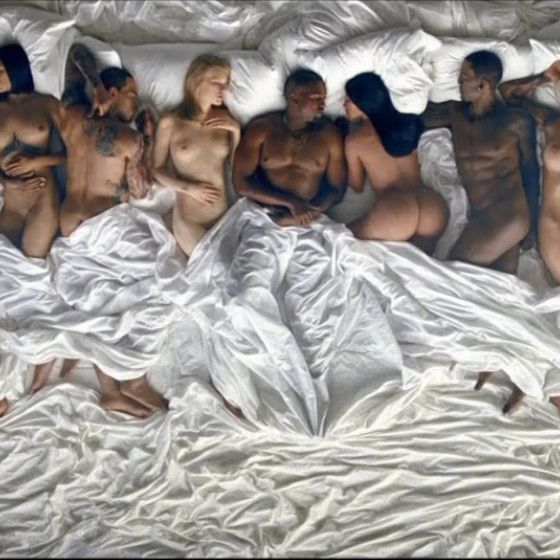 Kanye released the video for "Famous" last night, and it is full of naked famous people asleep in a giant bed.
The camera pans over the bodies as if we're creeping up on them Manson family–style, with close-ups on breasts, tattooed backs, and sleeping faces. Kanye himself is right in the middle of the bed, with Kim Kardashian on one side and none other than Taylor Swift on the other, and the camera focuses on her just as Kanye raps, "I feel like me and Taylor might still have sex." Dang.
Kanye's strange bedfellows include Anna Wintour, Donald Trump, Bill Cosby, George W. Bush, Kanye's ex Amber Rose, Rihanna, Kim's sex tape partner Ray J, Caitlyn Jenner, and Chris Brown.
It's not clear which bodies are flesh and blood and which are merely uncanny mannequins, digital FX, or some combination thereof, but you can guess that at least a few of the folks shown in "Famous" weren't down to appear in a music video, much less one where they're completely nekkid. Like, Dubya and Trump and Cosby were probably busy. As for everyone else, who's to say that any of those people wouldn't say yes if you called them up and asked them to appear in your short film? We don't know what Anna Wintour gets up to in her private life.
Kanye told Vanity Fair, whose Dirk Standen got a special secret sneak preview of the video via Skype, "It's not in support or anti- any of [the people in the video] … It's a comment on fame." He also said that of the people he's shown the video to, the ones who weren't included were jealous. "They want to be in the bed."
Kanye premiered the video live at The Forum in Los Angeles at 7 p.m. and 11 p.m. screenings, which is a far cry from when people had to stay up super late to watch the naughty version of Madonna's "Erotica" video on MTV. You can see some fan footage here if you don't feel like watching 20-plus minutes of a sunrise while you wait for the actual song to begin, because Tidal is a sadistic streaming service that doesn't have a fast forward option. (Kanye also said, "Matthew Barney is my Jesus," so at least "Famous" isn't as long as The Cremaster Cycle or as full of literal shit as River of Fundament.)
"Famous" is streaming on Tidal for the next week.