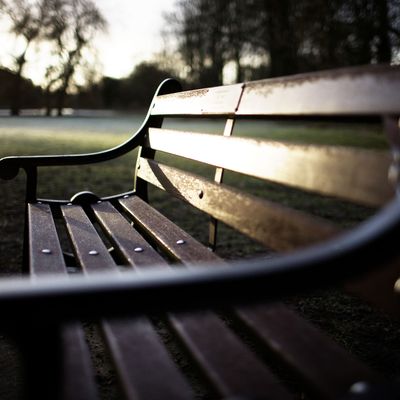 New York's Sex Diaries series asks anonymous city dwellers to record a week in their sex lives — with comic, tragic, often sexy, and always revealing results. This week, a 40-year-old software designer having sex with his girlfriend all over New York: straight, male, in a relationship, lives on the UES.


DAY ONE
5:30 a.m. Plane touches down at EWR and I wake to the jolt of the wheels hitting the tarmac. Still groggy from the liquor and sleeping pills I took the night before, I switch my phone on and send a message: "Landed."
6:30 a.m. I text "At penn station" and consider if I should grab a coffee on the way to her place or not.
6:50 a.m. I arrive at her building. The doorman finally remembers my name, after calling me Julio the last two times (my name is not Julio). Up the elevator and at her door. She looks beautiful — I'm guessing she slept in her makeup by how put together she looks. She's wearing a black satin nighty with her red-and-black-checked bra. My Monday-morning arrival on the red-eye from L.A. usually means we take care of the weekend's pent-up desire immediately, but this time we both admit how tired we are and decide to take a nap instead. She gets on her knees, unties my shoelaces, and removes my shoes, then my shirt, then my pants. We curl up in bed and fall asleep within minutes.
12 p.m. We wake up slowly after a series of stretches, cuddles, and kisses. Just-the-tip is a game we've been playing for over a year: It starts with one of our hands on the other's crotch, then on each others' mouths, and then more … if we feel like finishing, cool; if not, it's fuel for later. This morning's just-the-tip started with her on top of me, followed by a test drive of a new travel pillow that should provide the appropriate pressure on her clit while I slowly penetrate her from behind. I hear the pace of her breathing speed up, which (over)excites me, and I explode four days of my saved-up juices in her. "Sorry, baby," I say already planning how I'll finish her off later, hopefully before we leave on our bike ride.
1 p.m. Five-minute breakfast takes about ten minutes today but is as yummy as ever. We almost make it through breakfast before she comes across the table and sits on my lap. She's still in her nighty and I'm still in my boxer briefs. Kisses on her cheek become kisses on her neck followed by nipples, wet fingers, and we're back at it. The chair starts making some noises, so I move us to the couch, angle is a bit awkward, and … well, just-the-tip.
2 p.m. We put on some clothes and set out on our bike ride, hoping to make it over the Manhattan Bridge. Last time we set out on this journey we stopped at 169 Bar in Chinatown, had a few drinks (also had sex in the bathroom), and never made it over the bridge. This time we'll wait until we're in Brooklyn before any shenanigans begin.
3 p.m. Crossed the bridge, and while riding through Downtown Brooklyn she suggests we go to a park — "Are we close to Prospect Park?" I immediately think that she wants to christen a new park on our sex-in-a-public-park one-year anniversary. I later find out that wasn't the case, but sex in a public park is a good idea, so it becomes the afternoon's new order of business. First location fails: We find a private clearing with logs only to have hikers and joggers stumble through (luckily, before we got started). Back on the bikes searching for a better spot. About 15 minutes later, jackpot: an old tree just above a clearing off the specialty-bike trail. "Pick a switch," I tell her, and she picks up a long, twisted branch. "Bend over and put your hands on that tree" are the instructions I give before I start whipping her with that branch. I lean in a little, knowing that it hurts, but the sounds she's making are mixed with arousal. "One more," I tell her before making her get on her knees and take my cock in her mouth. A few minutes later, I sit on the ground, lean against the tree and she mounts me. She must've been pretty worked up because she starts to cum a few minutes later and it lasts a while. I finish about a minute after her, we get up, dust ourselves off, and while taking a picture of the spot below the tree, a hiker pops into the clearing next to us, looks over, then walks away. Fortuitous timing, once again.
5 p.m. Left the park at beer-thirty and headed to the Branded Saloon. Beer, pickle-backs, fried pickles, a quick trip to the restroom, and off to the next bar.
6:30 p.m. Next bar, then another (snobby waiters and bartenders working Prospect Heights kept us moving), where we grab the usual shitty-beer-and-shitty-whiskey combo. She tells me about her weekend. I share the highlights of mine. We decide to head back over to Manhattan to B-Side, the bar we discovered last Memorial Day as well as got it in. Make it there just before night. Have a few drinks and decide to rush over to Taverna Kyclades.
10:30 p.m. After reminding the host that they close at 11 p.m. and pleading with the staff, we sit at the bar. We skip the Sea Penis (Octopus) and go with Greek salad and saganaki. Not as good as Astoria but good enough to avoid the ride over there.
11:30 p.m. Back at her apartment. We're skipping the ride uptown to my place and staying at hers. I convince her not to wash my pants (dirty from hiking and sex in the woods) and we hit the sack in each other's arms. I whisper "I love you" quasi-silently into her ear like I do every night I'm with her.
DAY TWO
11:00 a.m. I miss her. We met last Christmas in a bar in Chelsea — quick chat and exchanged info. Turned out we're both from California. As I was walking out, she grabbed me and we made out so that she "could see if this is as good as I think it will be." We originally agreed that every relationship is an open one until you decide it's not. I didn't expect to be so blown away by her — but then a few months later, we didn't want to be with other people. We are committed and monogamous, and it's perfect.
9:00 p.m. Didn't see each other. Worst day of my week.
DAY THREE
11:00 a.m. Working, working, working. I write software and work for start-ups.
9:00 p.m. Didn't see each other. Now the worst day of my week.
DAY FOUR
5 p.m. "Can I call you with a programming Q?" she texts. "Of course," I respond. Spent 20 minutes or so talking about work stuff before telling her, "I know it was only Monday since I saw you, but it feels like today is Friday and that was Sunday."
11 p.m. "Hey love. At the Phoenix now. Yes, it's queer pong night. Will text you when I'm home," I text her. "Say hi to the sex couch for me!" she texts. The Phoenix in the East Village is the first place we had sex in public.
2 a.m. "Home, love. Good night. Love you." It's my last text of the night, one I always send when I'm a little boozy so she knows I'm not in a gutter somewhere.
DAY FIVE
10 a.m. Alarm goes off and I'm up only to send a working-from-home message to the office before anyone wonders where I am. I swear I counted five to six drinks last night, but I'm feeling like it was three times that much. At first I don't remember if I texted when I got home, but I feel way better about my night when I discover that I did. A few work things to take care of, then some errands, all while trying to go from feeling 50 percent and hung-over to 100 percent and ready for Governors Ball.
10:12 a.m. "Hope you're as horny as I am," she texts me. Man, I really have to get to 100 percent before she gets here! Last work phone call of the day … check. New sneakers for the weekend on my feet … check.
2:37 p.m. "Jumping in the shower," I text her. "Will let myself in!" she replies.
3 p.m. Halfway through my shower I hear her come in. "Bueno," I yell from the shower. She walks to the restroom and gives me a kiss before letting me finish up. I finish, dry myself, brush my teeth, and peek out. "You're still wearing clothes? What the shit?"
3:30 p.m. We don't even make it to the bedroom. She straddles me on my couch and comes pretty damn hard.
8:30 p.m. On our way to see Robyn, we notice a Vitamin Water tent that's already zipped up. I peek underneath and give her a look that says, "We'll be fucking here soon." Restroom trip — then, when we thought no one was looking, we ducked under one side. Kissing led to my hand under her dress, and just before she got on her knees, to take my cock in her mouth, some girls on the other side of the tent yell, "Oh my God!" They had peeked in and seen us. Then they leave, and we're back at it. We keep slipping, but not before five to ten minutes of getting-it-in. "That still counts, baby," I tell her. We leave without remembering to put a commemorative sticker on something.
11 p.m. We get home and we're both tired. I finally admit that I've felt like shit all day. We strip down and get into bed. A kiss, another, hands wander, then I ask: "Just-the-tip?" We start slow with me on top, then agree to stop — but neither of us wants to. I flip her over, grab the coconut oil, and then it's anal. Both of us are seemingly into it for 30 minutes before I ask, "Are you close?" "No, this is for you," she responds. "Forget that. This is for both of us," I say before we stop. We clean up, then go to bed … for real this time.
DAY SIX
11:15 a.m. Just-the-tip begins. We start by licking our fingers and working each other's crotches, then she mounts me, starting slow then working up to faster thrusts. I'm trying to fight off the feeling but she reminds me, "This isn't the only time we're having sex today, baby …" so I lose myself.
12:30 p.m. Turns out she left her birth control at home in Chelsea, so we have to detour south before heading to Gov Ball. Today is a very special day for me: It's the first time I'm going to take ecstasy, and I'm 40 years old. We'd decided that I'd pop my E-cherry at Gov Ball back in February. I'm a little nervous since she told me it's a bit of a truth serum and I'm still trying to (kinda) keep it cool around her.
3:45 p.m. Arrive, grab some food (black-bean taquitos) and a beer, then make sure to swing by the Vitamin Water tent to slap a sticker on it.
4:26 p.m. She distracts the Vitamin Water girl while I pull out two pills. "Cheers, baby," she says, and we each take one. We have some time to kill before De La Soul.
5:51 p.m. De La Soul takes the stage a few minutes before everything hits me. "Wooowwww! Holy shit, this feels awesome! Oh my God!" I say, with the biggest smile. The next hour is magical. A few minutes later, after she acknowledges that she's feeling the exact same, we kiss … it's the best kiss of my entire life. I'm not certain I've even had sex that's as good as this kiss. It lasts anywhere between 20 seconds and 20 minutes. Not really sure.
7 p.m. De La Soul has finished and we're both a little … wow. We stumble toward the center of the festival, stop to take pictures of a group of people, and it starts to rain. No, it starts to pour. She sees a picnic table and suggests we hide under it. We're getting soaked, but I pull out the (old, coconut-oil-stained) sheet we brought and wrap it around us. It's something like a childhood fort. We're there for two and half hours until the rain stops. Eventually people come back out and are walking, standing, and sitting all around us before it starts to pour again — but we're here alone, just the two of us. I can't help but confess every feeling and impulse I've had since meeting her.
9:30 to 10 p.m. We check out M83, and, yes, they play that song that everyone knows and wrap it up early. The Strokes are still playing, so we wander over there. We arrive to hear their last five songs, four of which were the only songs I knew. Yay!
DAY SEVEN
12 a.m. We get back home, sit on the couch, and wind down the night by taking two edibles we got from a girl visiting from Colorado we met a month earlier. "Did you just say I love you?" she asks, since I recently admitted to her that I whisper it in her ear every night. "No, baby. This happens to be the only time that I didn't say it." She kisses me good night, closes her eyes, and I whisper in her ear, "I love you."
Want to submit a sex diary? Email sexdiaries@nymag.com and tell us a little about yourself.