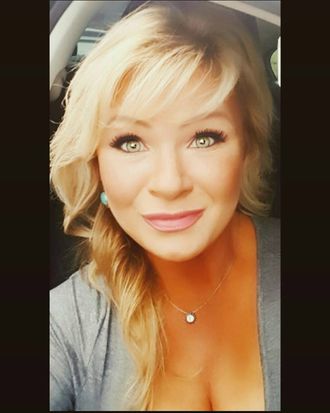 Christy Sheats.
Photo: Christy Byrd Sheats/Facebook
Police killed a Texas mom after she shot her two daughters on Friday night, her husband's birthday. She was a gun supporter with a history of mental illness.
Forty-two-year-old Christy Sheats allegedly started shooting her two daughters — Taylor, 22, and Madison, 17 — after a family argument inside their brick house on Remson Hollow Lane, a quiet subdivision in Fulshear, Texas, about 45 minutes west of Houston. She shot her oldest daughter once inside their home. The girls and their dad, Jason Sheats, ran outside, according to one neighbor, and Christy Sheats appeared out front with a gun.
She went back inside to reload, returned, and shot her youngest daughter Madison in the back. Taylor was shot twice again outside. Jason Sheats apparently rushed to a neighbor's house for help; 911 calls began at 5:01 p.m.
When police arrived, Christy Sheats stood with a gun in her hand near her daughters' bodies in the street. When she refused to put the gun down, apparently preparing to shoot again, an officer shot and killed her. Taylor died at the scene; Madison was airlifted to Texas Medical Center and died from the injuries that night. Their father Jason was unharmed but inconsolable — he was taken to a hospital for examination. Neighbors told reporters that Friday was his birthday, and that the couple recently reunited after a separation.
Police had visited the family's house multiple times during "previous altercations" related to what police described as Christy Sheats's "mental crisis," People reported. But neighbors and friends who spoke with reporters seemed bewildered by the shooting, as the family appeared to be very close. "This is not the Christy that I know. It's just not," a friend told ABC's KRTK-TV. "When you meet her, you know she's a mom within the first minute."
Christy Sheats often posted online about her love for her daughters, her faith, and her support for gun rights. In March, according to Jezebel, she wrote in a Facebook post: "It would be horribly tragic if my ability to protect myself or my family were to be taken away, but that's exactly what Democrats are determined to do by banning semi-automatic handguns."
A babysitter and caregiver, 22-year-old Taylor graduated with honors from Lone Star College and was a talented artist, posting drawings and articles about politics and social justice to her Facebook page. Madison was also a babysitter; the 17-year-old would have been a high-school senior this fall.