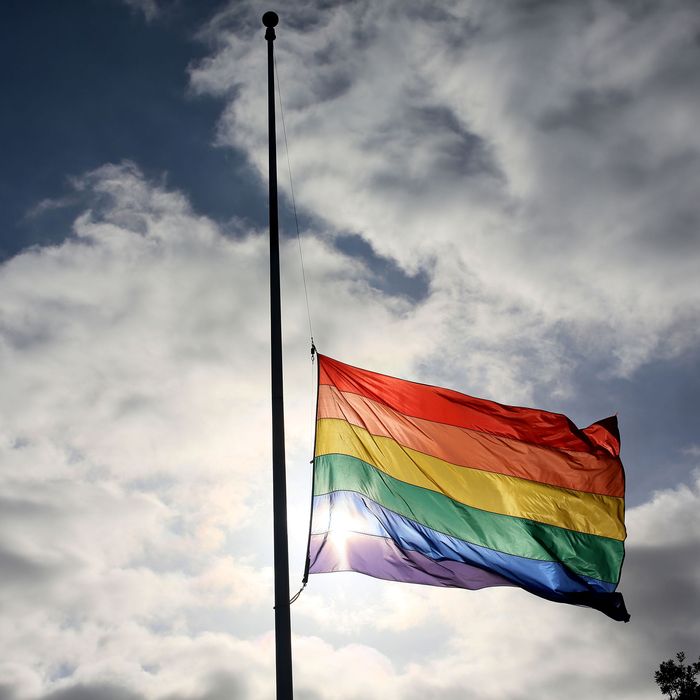 Photo: Sandy Huffaker/AFP/Getty Images
Gun violence is an issue of national importance; this, at least, is a sentiment that few would disagree with. The best way to address this issue is, of course, another matter entirely, a question that has proven once again to be a divisive one in the days after the mass shooting in Orlando on Sunday morning. It would help if there were empirical evidence on gun violence to draw on — but, as Science of Us wrote in December, federal funding for scientific research on this subject has been effectively blocked since 1996.
And this is why a statement issued on Tuesday by the American Medical Association is so important. In response to the shooting at a nightclub in Orlando, the AMA called gun violence a "public-health crisis" and pledged to lobby Congress to overturn the 20-year-old legislation that has prohibited research on the subject. "Even as America faces a crisis unrivaled in any other developed country, the Congress prohibits the CDC from conducting the very research that would help us understand the problems associated with gun violence and determine how to reduce the high rate of firearm-related deaths and injuries," Steven J. Stack, president of the AMA, said in the statement. "An epidemiological analysis of gun violence is vital so physicians and other health providers, law enforcement, and society at large may be able to prevent injury, death and other harms to society resulting from firearms."
For background, here's more on that legislation from Jesse Singal's Science of Us piece:
In 1996 the

NRA

, furious about a 1993 New England Journal of Medicine article on the risks of gun ownership, successfully pushed for the passage of a budget amendment that yanked $2.6 million from the

CDC

— exactly what it had been spending on gun research — and banned the agency from disbursing any funds toward research that could be construed as supporting gun control. While not an official, outright ban, the

CDC

has interpreted it that way — its administrators have little appetite for hearings or "investigations" from

NRA

-funded congresspeople — and since then its gun-related research efforts have dwindled to basically nothing. (Former Representative Jay Dickey, for whom the so-called Dickey Amendment is named, has subsequently expressed regret about his role in this

episode.)
This isn't the first time the AMA has issued a strong statement regarding the state of gun violence in the U.S. NPR notes that this week's statement echoes one from 2013, in which the association called guns "one of the main causes of intentional and unintentional injuries and deaths," making the weapons "a serious threat to public health." Likewise, the American Academy of Pediatrics has also recently spoken out against the legislation barring federal funding for research about gun violence.
You can read the AMA's full statement here.