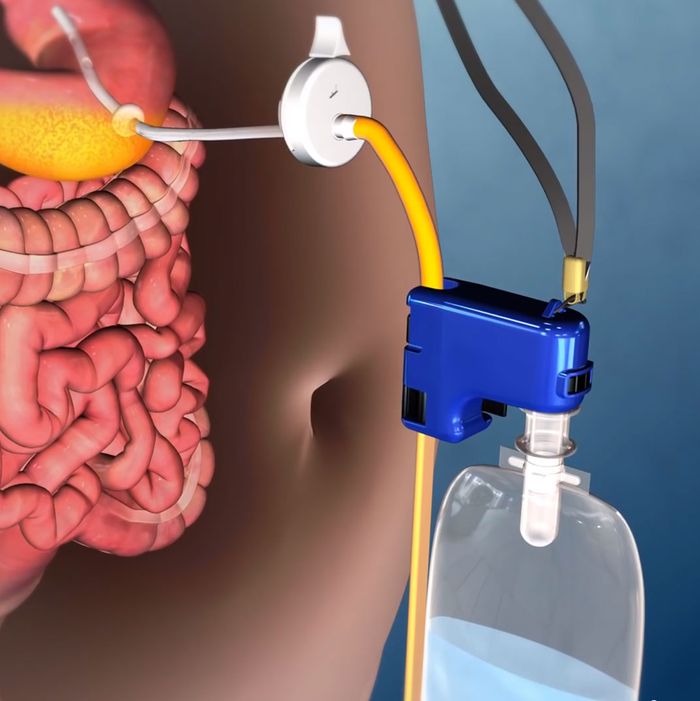 Today, the U.S. Food and Drug Administration approved a new device that would help obese people absorb fewer calories — by draining a portion of their undigested stomach contents directly into the toilet.
The AspireAssist is basically a small pump that attaches to a hose surgically implanted in a person's stomach. Twenty to 30 minutes after every meal, they'd open the port valve, turn on the device, and pump out about 30 percent of the food they ate. The process takes five to ten horrifying minutes.
In a yearlong clinical trial, people treated with an AspireAssist device and nutrition and exercise counseling lost an average of 12.1 percent of their body weight versus 3.6 percent in a control group that received the counseling alone.
It's meant for people age 22 and over with a body mass index between 35 and 55 — obesity is technically a BMI of 30 or more — who haven't responded to other non-surgical weight-loss approaches. Last week, federal health officials announced that 38 percent of adults are obese.
But, the FDA warns, the device "should not be used on patients with eating disorders." Perhaps that's because critics say it mimics binge-and-purge behavior. In 2013, a nutrition professor characterized the device as a "bulimia machine."
The FDA also writes that "patients require frequent monitoring by a health care provider to shorten the tube as they lose weight and abdominal girth, so that the disk remains flush against their skin." Side effects of the device include occasional indigestion, nausea, vomiting, constipation, and diarrhea plus "leakage, bleeding and/or infection around the site where the tube is placed and device migration into the stomach wall."
Wait, I'm sorry: Someone thought this was an advancement in the treatment of obesity?